This week's entry in the Midlife Makeover Series? It's time to shake up your makeup once again. Beth Djalali of the delightful blog Style at a Certain Age, and whose flair for fashion will enchant you, has agreed to participate in this exercise. And she's doing so with a special twist as she rocks a nighttime look that is totally glam!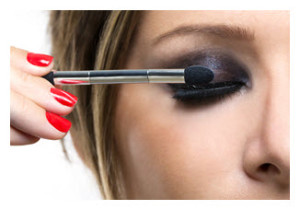 As Beth and I exchanged emails on the subject of style in general and makeup in particular, I thought about how some of us start to narrow our own socializing options as we get a little older. This may be a matter of circumstances: We may not have the budget, we may not have a partner with whom to go out, or we may not live in a location with opportunities for tonier events or venues.
But… we may also be hiding.
Yes, I said hiding. It's easy to lose the habit of dressing up and going out. And whether it's a question of the "chicken or the egg," the result may also be a loss of confidence.
I confess, the last time I had a chic invite that required me to do it up head to toe, it had been a very long time. I was so out of practice that my "go to" outfits didn't fit and even my "go to" face seemed, well… not quite right.
It took me countless alternative outfits and hours of fussing to pull myself together. All the more reason that we ought to doll ourselves up now and then, or at least know how so we can when we need to!
So please enjoy Beth's experience as she slips into a nighttime look that is stunning and filled with useful tips.
She writes:
After accepting the makeover challenge, I decided an evening look would be fun to do. Since I'm a casual chic kind of girl, I mostly style daytime attire on my blog, so this makeover was the perfect excuse to not only tweak my nighttime look, but also put on some party duds and head out to dinner with my husband afterwards.
It turns out that Beth is no stranger to the talents of a good makeup artist — and I highly recommend getting to know one or two people at your favorite cosmetic counters who are happy to share their knowledge and a few minutes of their time.
Beth explains:
I have a wonderful makeup consultant at Bloomingdale's by the name of Robert who is my go-to for skincare and all things in the beauty department. Robert is a wealth of information and I buzz in to see him every few weeks or so. He was thrilled when I bopped in and asked for a glam evening look, and he patiently and kindly guided me through my makeover challenge.
So how does evening differ from daytime for those who aren't used to switching things up?
We might simply assume "more" or "darker," but that isn't necessarily the case. Consider the specifics that Beth shares:
Since it was an evening look we were going for, Robert added an extra dab of foundation -– Ivory by Laura Mercier. I recently switched over to this product when the season changed, and I love it. It's light and airy but gives enough coverage for day or night. Next, Robert used an eye concealer by Chanel called Lift Lumiere. He dabbed the inner corners of my eye but brought it down my nose and out to my outer eye. The concealer appears yellow at first so don't be alarmed. Eventually it blends in.
Now, for a touch of drama…
After my foundation was in place, Robert used a black eye pencil by Chanel on my upper and lower eye. Afterward, he went over the eye pencil with a black liquid liner by Dior. Robert patiently explained that liquid liner is tough to apply unless you're an expert but is a far more sophisticated look. It helps to have the eye pencil in place beforehand as it acts as a guide for the liquid liner. Personally, I'm a little inept when it comes to the makeup application department so I don't even attempt liquid liner at home. Robert thought it would be fun to create a smoky eye for me so that's what we did. Chanel #214 Smokey eye palette was used with a little dab from each of the four colors.
Here's a terrific tip that surprised me.
Robert applied black mascara by Dior before the eyeliner and shadow. I always end my makeup routine with mascara, but Robert suggested I switch it out to the beginning. I'll try to remember this step, but since I've been using mascara since the age of 15 this might be a hard habit for me to break! I don't know about any of you, but some days I can't even remember where I last placed my glasses… I do use Dior mascara on a daily basis and think it's one of the best mascaras around. With my fair skin and eyes, mascara is probably the one item I just can't live without. Otherwise, my eyes just fade away into nothingness. For my eyebrows Yves Saint Laurent was lightly penciled in to give some definition.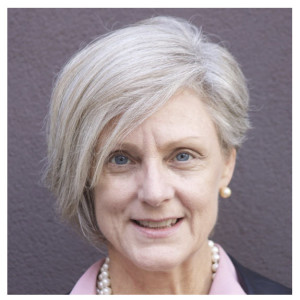 Here is Beth's "before" picture. She must be a makeup artist's dream — lovely, before they even begin.
Now, for a subtle approach to the finishing touches, as I ponder the practicality of hopping a plane to visit Robert myself…
Moving on to bronzer and blush, Robert chose a Dior bronzer #2 as a contour. I use this on a daily basis and love the color for my complexion. The bronzer is swept from my ear straight toward my cheekbone. The apple of my cheek was dusted with Chanel rose bronze blush. To polish off my fab evening look a pale lipstick was chosen to contrast with my smoky eye -– Tom Ford Sable Smoke. But first, my lips were lined with a nude lip liner by Chanel. If I had gone for a subtler look with my eye shadow then a bright pop of color on my lip would have been the perfect choice -– maybe red. Robert suggested thinking in terms of opposites when it comes to lips and eyes. When one is dramatic, the other has to play the supporting role.
Pure elegance. I would say Beth is ready for a night out anywhere — her home in San Francisco, New York, London, Paris.
Do note, as Beth pointed out to me, she is posing outside in daylight for her evening makeup look.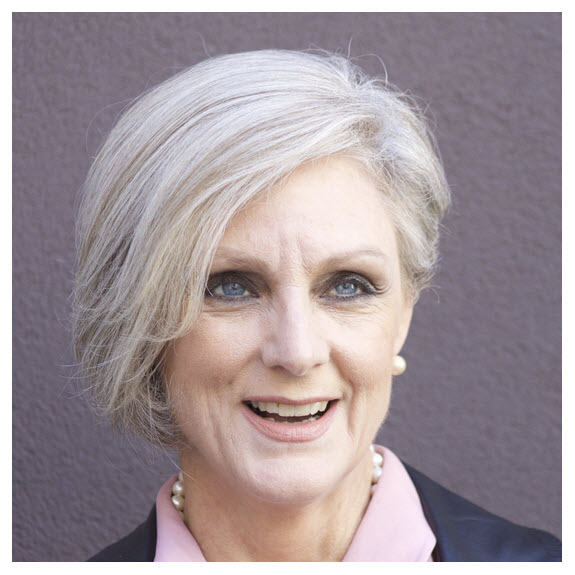 As you will see when you visit Beth's blog — and I guarantee you will become addicted very quickly — her sense of style is playful, engaging, sophisticated, witty, bold on occasion and always, always hers. She exudes confidence, yet she seems warm and approachable. I find this an ideal combination, and I find her exquisitely chic.
Now, see how she puts herself together for a night out on the town. Amazing, yes? What a beautiful woman!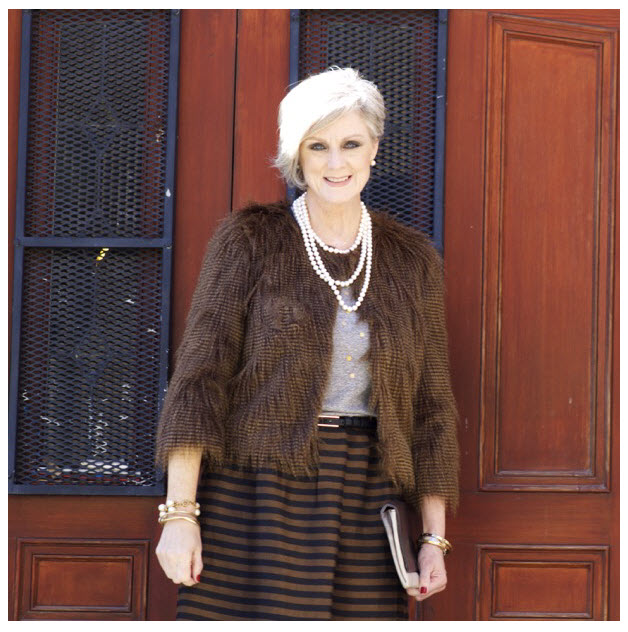 As she said in her email to me, recounting her makeup makeover for her night out:
There you have it — a fun, glam evening look.
Fun and glamour. That suits Beth to a T, don't you think?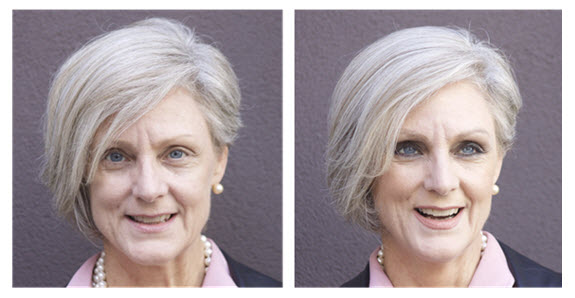 You may follow Beth on Facebook, on Twitter, on Pinterest, on Tumblr, on Instagram, and of course, visit her inspiring blog, Style at a Certain Age.
My warmest thanks to Beth for her fantastic contribution to the makeover series!

Read more of the Makeover Series here. Or, if you like, peek at all the makeup makeover posts here.
You May Also Enjoy