This post is part of a campaign by BOOMboxNetwork.com on behalf the American Gastroenterological Association. It is intended to provide information to help you avoid overdose on common OTC drugs. As a sponsored post, I am receiving payment for my participation. However, the opinions expressed are my own.
Please note: This should not be interpreted as medical advice. If you have questions about your health or current medications, talk to your doctor.
Chronic Pain? Me, Too.
Chronic pain? Like millions of others, I live with the usual wear-and-tear that comes with the years. In addition, old injuries sustained some time back plague me… nearly every day.
Some days I'm so busy (and chronic pain is minimal), I can simply go about my business. Other days, I'm thankful to have pain relief close at hand: Advil, Tylenol, or generic versions of acetaminophen and ibuprofen.
Know Your Medicine
Did you know that acetaminophen is found in more than 500 OTC and prescription medicines?  Did you know that NSAIDs (Non-Steroidal Anti-Inflammatory Drugs) are found in more than 550 OTC and prescription medications?
So what if you're suffering a nasty cold and a back ache? You may be taking these common pain relievers in more than one product, and consequently risking an overdose.
Tens of millions of us take these drugs daily. We may risk serious liver damage or other gastrointestinal problems without realizing. In fact, it's estimated that over 100,000 people are hospitalized and 17,000 die each year from gastrointestinal bleeding and liver damage due to overdose or overuse of OTC pain medicine ingredients.*
Read and Follow Labels!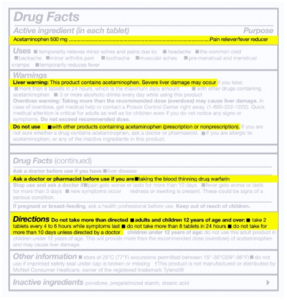 The simplest way to reduce our risk? Read labels and follow directions!
Whether it's your pharmacy's generic flu medicine, or the pain reliever your spouse pulls out of his or her briefcase, pay attention to:
active ingredient(s)
warnings, including safe dosage
directions
By the way, the maximum daily dose for acetaminophen is 4,000 mg/day. Do you realize how easy it is to exceed the safe dosage if you're not careful?
And that's the adult dosage. As a petite woman and a relative "lightweight," I have to be very attentive to drug dosage, both prescribed and over-the-counter.
One Drug at a Time
Suppose your back is throbbing and you have a nasty cold. You reach for last year's Extra Strength Tylenol when your chronic pain was at its worst, and an OTC cold medicine.
Your Tylenol dosage is two 500-mg acetaminophen tablets (1,000mg) every 6 hours. That's 4,000mg in a 24-hour period. Now add your cold medicine: 325mg of acetaminophen times the 8-capsule maximum. That's another 3,000mg. Taking both OTC products all day, you nearly double what constitutes a safe dosage!
The fix?
Take one product at a time that contains acetaminophen or an NSAID. If you take more than one product with the same active ingredient, you risk exceeding the recommended dosage.
Talk to Your Doctor
That earlier reference to my diminutive dimensions? No small issue, if you'll forgive the pun.
In the past, I've been prescribed standard dosages of common drugs, only to find myself utterly overpowered by them. I've learned my lesson: I raise the issue of size / weight, I typically take closer to a child dosage, and I ask questions of physician assistants, nurses, pharmacists and doctors – especially when taking a new medication.
Moreover, I pay close attention to medicine guides and warning verbiage. If I have any concerns about dosage or drug interactions, I call my pharmacist or doctor's office.
More Tips on Medicine Safety
Kids. We put OTC drugs in our teenagers' bathrooms. Shouldn't we talk to them about the potential effects of overdosing, overuse, and the need to read labels?
Expiration dates. Periodically, I go through all products in my bathroom and my boys' bathroom. I toss what has expired. And let's not forget to do the same with small stashes of pills we keep in tote bags, travel bags, briefcases and purses.
Aging parents. Likewise, shouldn't we apply these safety measures to our aging elders? Have we spoken to them? Looked in their medicine cabinets?
Accepting OTC drugs from others. Who hasn't asked a friend for an aspirin or a Tylenol? They oblige, and we pop a few tablets without a second thought. But are we taking 200mg or 500mg – times two? This is why I carry my own low-dose Advil.
What Next? Stay Informed!
You can learn more about the American Gastroenterological Association by visiting the Gut Check website. And check out this video. I highly recommend it.
Connect with the American Gastroenterological Association
*Singh Gurkirpal, MD. "Recent Considerations in Nonsteroidal Anti-Inflammatory Drug Gastropathy." The American Journal of Medicine, July 27, 1998, p. 31S.