In Mad Men's Final Season opener, "Time Zones," we're greeted by formerly failed ad man, Freddy, pitching poetic prose.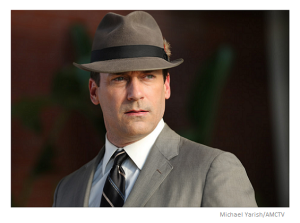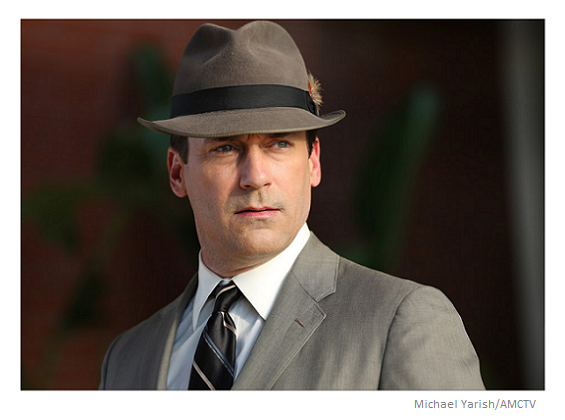 It's a gem of an idea – both Freddy's and Mathew Weiner's – as Don Draper is the wizard behind the curtain creating smart slogans and Peggy's piqued interest.
The pair may be discussing a Swiss watch, but as they say, it's "time for a conversation," as the premiere situates us in January 1969, and catches us up on our favorite characters, each in transition.
Can We Ever Really Start Over?
Season 6 ended with a Don deep in a disaster of his own making – professionally and personally – in a botched attempt to return to hero status. Having caught her dad in the act, Sally is painfully aware of his affair with Sylvia, and he waxed confessional in the Hershey's presentation, speaking of his upbringing in a whorehouse. Try Embarrassment with a capital E – for the prospects and his colleagues.
Can we ever really make a fresh start? Can our transgressions be forgiven and forgotten? Can Don ever reclaim his position at the top?
Time zone differences? Try time… passing. Think of Don seven years earlier, and this Don, in 1969.
Consider as well that our hero first appears in the claustrophobic quarters of an airplane bathroom. He's shaving in preparation for landing in L.A., where Megan meets and greets as she steps out of a nifty little sports car. Her hair is flowing, her dress is fluttering in the breeze, and the couple are happy to see each other though the scene itself is like an ad for California.
And did they somehow patch things up?
Unfortunately, the Man with the Magic who was once on top of the world is now on indefinite leave from the agency. Can we spell Free Fall, as in the slow-mo in the show's opening montage?
Sure, he's picking up a paycheck, but his future is in limbo. At least we know he isn't living in the bottom of a bottle, at least, not at the moment. And he's saying no to a fling with a woman he meets on his flight home.
Can he start over professionally? We see him in his classic hat and suit, rigidly carried along at the airport by a moving sidewalk, as brightly colored vertical stripes make a marvelous backdrop. But Don seems starkly alone. Is he passing into his future or displaying his inability to escape the past?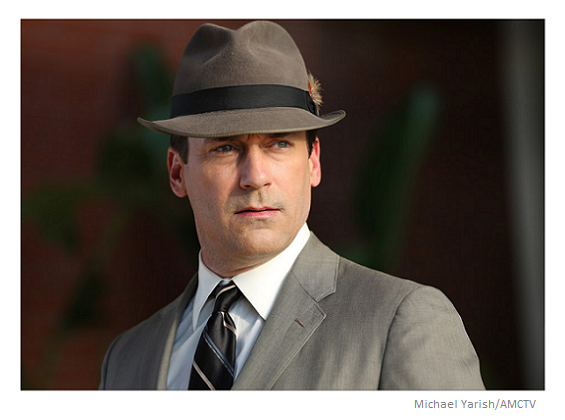 Ah, the Women of Mad Men…
Poor Peggy is in love with Ted, who beds her then takes refuge 3,000 miles away. Of course there's nothing "poor" about Peggy. She may be going through heartbreak and frustration, but she stands her ground, she holds her head high, she's Chief Copywriter and she pitches proudly (and stubbornly), not caving when she insists on quality of ideas and their execution.
Joan, clever and luscious, shows her mettle as she continues her learning of what it is to be "an Account Man." She's dealing with a newly minted Marketing MBA, and dare I chuckle at the mention of the four P's – product, price, place, and promotion? But Joanie won't be put off by the snippy prospect who thinks he knows better, and she won't be taking her job lying down, if you know what I mean. She seeks counsel from a local Business School as to strategy with Butler Shoes. Yet our Mrs. Harris winds up schooling the faculty, explaining the pros and cons of fees and commissions.
Peggy could do with a new beginning of her own. She's dealing with a less than appreciative Don Draper Stand-In, who seems perfectly content with mediocrity when it comes to campaigns. Meanwhile, her personal life has quite literally gone to shit. She's still living in the rat trap her ex-boyfriend selected, with a tenant to worry about and his backed up toilet.
Any white knights care to plunge in and assist?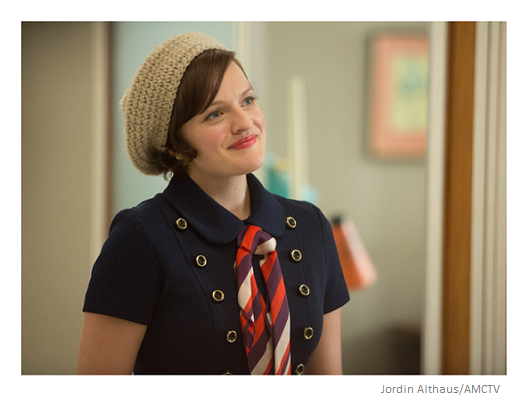 Go West Young Men! (Go West if You're Young?)
Pete headed west, and he seems happy. Go figure… the Weasel in plaid pants and sideburns, sporting a smile on his face. Ted remains a question mark, with his intentions more murky. He's a basically honest guy, who wants distance from temptation, namely Peggy.
And Don's brief visit to the Left Coast seems to do little except allow a bit of connubial nookie and illuminate how out of place he is. Roger, meanwhile, is embracing the era in his own way, sharing his bed with an assortment of bodies.
Go West for the young men, while the "elders" remain more constrained by time?
Back in New York, it's clear that Don is feeding Freddy ideas. He's the "Cyrano" behind their scheme, as the older man is getting quite a reputation as a freelance creative, with the ultimate re-creator furnishing concepts and the copy.
While Don isn't the only one who is struggling solo throughout the episode, his situation is the most bleak. Note that in contrast to the sunny skies of California, Don is chilled by his Manhattan apartment. It is January after all, but for some reason his sliding glass doors are stuck. The frigid winter air is pouring into his living room, and he exits, sits down, and seems to steep in his suffering – out in the cold.
It's a striking final image, our fallen hero on his balcony, framed by the metal of the doors. He's boxed in, or rather, remains barred from re-entry into the bright, cozy world he once created.

Click here to access original image at AMCTV.com.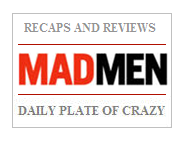 Be sure to check Mad Men Reviews weekly, or bookmark Entertainment / Mad Men.

© D. A. Wolf