You are an unremarkable woman in an unremarkable life: You hurry your children through breakfast, you drop them at preschool, you are impatient at the red light on mornings when you run late to the office, you bake cupcakes when asked by committees and neighbors.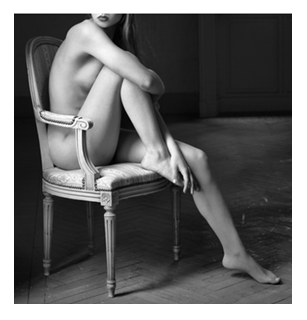 You check progress reports on Friday nights and status reports on Sundays.
You pay your bills on time, renew subscriptions to your husband's magazines, never forget birthdays and anniversaries, pick up the dry cleaning.
You leave the spotlight to the man you married though occasionally you long for an alternative; you imagine a different life, you remember a different life.
You are supportive of his career ambitions, accepting when he takes his weekends with the guys, silent as he stretches out in bed and invariably lands on CNN with its news of the latest war, blaring. Then he sleeps like a baby. And you rise to pace.
*
He tells you not to comb your hair, not to refresh your lipstick, not to change a thing. "Breathe," he says, so you take a deep breath.
He points to an Oriental folding screen in the corner of his studio. You try to remain composed, to accept the routine in this as he does, to dispel your nervousness by whispering to yourself: It's only a drawing.
"There's a robe on the chair back there," he says. "You can put that on for now."
You slip behind the screen and undress, emerging a few minutes later feeling vulnerable though you are far more covered up than when you arrived in shorts and a sweater.
He has been asking for years and you say no, over and over. You have no idea why you suddenly agree to this activity. Perhaps because your age grows accusatory. Perhaps because you feel your muscles slacken and your skin surrender its satiny texture. Perhaps you want to know you are not unremarkable after all.
He offers the glass of wine again that you refused a few minutes earlier. You down it quickly and he pours you a second. He instructs you to sit on an antique chair and explains how he would like to pose you.
"It's a sketch, not a painting," he says. "Thirty minutes. That's it."
The calm in his voice is soothing and the alcohol is doing its part. When he asks that you remove the robe, you stand up, drop it to the floor, and resume the position you held just moments before.
He surveys quickly and you wonder what it is that he sees – a friend, a woman, a set of body parts, a daily exercise.
He shifts your right shoulder forward, tilts your head toward him, angles one knee slightly, tells you to relax your fingers.
"Good," he murmurs, and then he gets to work.
*
Your husband is gone and the children are in college. On the back of the house is a small deck where ivy tangles itself in the rails of splintering wood. The foliage of late summer provides a privacy screen of sorts. The sun beckons after a hard rain.
You unbutton your shirt and drop it behind you, opting for the sensation of heat on your shoulders and light on your breasts, unremarked for so many years.

Flash fiction is a very short story of anywhere from 100 to 1,000 words. This is a quick writing exercise using the prompt of "sun after rain" in a 60-minute period.



© D. A. Wolf