Mercy, from our disgruntled Mad Men characters? The quality of that mercy? Let's talk self-serving, let's talk survival, let's get real.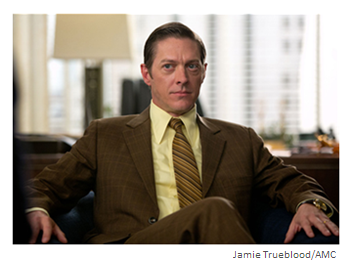 Episode 12's action moves us into Don swimming in guilt from Sally's discovery, Sally's silence as she processes her father's fall from grace, and Pete taking on Benson – with a twist we don't expect.
Don is drinking heavily, working long hours, and attempting to honor  his commitment to Ted, not to compete in endless in-fighting. But Harry Crane throws him a curve ball when seeds sewn at Sunkist reap a bountiful harvest – $9 million in billings, squeezing out Ted's Ocean Spray account. (Care to join me in a chuckle at the quality of that mercy being "not strained?")
Mercy may be put to the test in this episode, but it isn't doled out so much as perverted. Secrets aren't spilled, but they're guarded as ammunition.
Power, Guilt, Happiness, Loyalty
If the power struggles at Sterling Cooper & Partners are less evident, they're bubbling beneath the surface. Don is drowning in the messes of his own making, Pete's bitterness is irrepressible, Peggy and Ted can't hide their feelings for each other, leaving both vulnerable to lapses in judgment.
Don's guilt couldn't be more clear. He's spiking his morning orange juice (Sunkist?) with what looks like vodka. Sally's animosity toward her dallying dad is apparent in her refusal to see him,  and an expressed desire to attend boarding school. Betty is all in – Miss Porter's is the stuff of her status-driven dreams, and Henry has the pull to nab Sally an interview and overnight stay.
But let's all try a little help from our friends, specifically, Glenn! When the girls evaluating Sally want to party, Glenn responds to a call for an assist, arrives through the window (like a knight in shining armor?), and provides a buddy, alcohol, and pot.
And let's hear it for Glenn's big brotherly protection of her virtue, when his pal wants more from her than she's willing to give. Might this be mercy – on the part of Glenn? How about caring and loyalty – something the adults might want to consider.
Keeping Secrets as Bargaining Chips
Keeping secrets? Nothing like a bargaining chip, or a little something for a future salvo.
Don's secrets? Too many to count, but he's paying a price for the latest, now known to his daughter.
Ted's non-secret secret, that he and Peggy are in love? Everyone knows. His behavior is transparent. He indulges Peggy's campaign concept for St. Joseph's aspirin, ignoring the client's budget in order to help her get a Clio, and savoring every moment the two can possibly spend together.
When Don steps in to give the client a heads-up on the money issue, the meeting that follows is painful to watch. Don saves the day, but first he makes Ted squirm and squirm and squirm… drawing out the "reason" Ted went so far over budget, claiming (finally) that it was "Frank Gleason's last idea" before he died.
Invoke a dead man to save an account? Why not?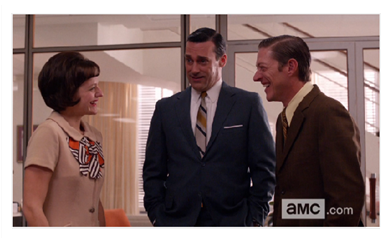 The client concedes and leaves content, Ted is miffed, and Peggy is furious. This wasn't anything but mercy on Don's part. It was a blow struck out of mixed emotions, and a cup runneth over of jealousy seeing Peggy and Ted happy.
At this point in his life, how painful is it for him to witness anyone's happiness?
Pete – Mercy? Don't Think So!
Pete is a whole other story in this episode, and when he finds out from Duck that Bob Benson is an invented character – a former "man servant" originally from West Virginia, and without the blue blood background and elite schools on his theoretical resume,  he's poised to fire him but then pulls back.
Keep your friends close and your enemies closer?
Pete clearly sees a parallel between the fabricated persona of Benson and Don Draper. Let's not forget that a few years back, he had a sanctimonious tantrum over his discovery that Don was Dick Whitman. We may know there's a world of difference between these two – in ability if not the fact of recreating an identity, but to Pete they seem to occupy the same essentially inferior space.
But Pete learned something when he tried to damage Don over his identity issue. The partners knew, they didn't care, and he's the one who looked like a jerk. Keeping Benson's secret allows him to hold the upper hand.
Mercy? Not quite. More like ammunition for a future salvo, leverage for when he needs it, and knowing that despite disliking him, having him around may serve his purpose. And I wouldn't count out Benson's quick wits just yet.
Thoughts on the Quality of Mercy
Can we forget that early in this episode Kenny gets shot in the eye by the Chevy guys? The car wreck due to their drinking wasn't enough?
While there's something darkly comedic in Kenny bearing the physical wounds of this Major Account Gone Wild, who striking is the metaphor that the latest beating is to his vision? With one eye covered by a patch, Kenny sees more clearly. His family is what matters. He wants away from Detroit, and Pete steps in.
Incidentally, most of us are familiar with the expression "The quality of mercy is not strained." It's meaning? A line from Shakespeare's The Merchant of Venice, it teaches us that mercy is to be freely given, not constrained. Mercy is clemency or pity. It is forgiveness or compassion shown to someone we have the power to punish or harm.
There is no forgiveness or compassion when it comes to Sally and her father. Though she hasn't broken her silence, her actions betray that something is amiss between them. As for Don, his drinking and sullen demeanor suggest he has little mercy for himself. The "punishing" or "harming" part? He's got that down, as profound guilt is adding to his self-destructive spiral down.
Take the Bitter (Drink) with the Sweet?
Forget the bitter pill, let's contemplate the juice! Cranberry losing to OJ? Theoretically that's the bitter biting the dust in favor of the sunnier disposition (and bigger bucks) of the sweet. With a nod to our Chief Copywriter ("it's tart"), this episode provides plenty of punch when it comes to seeing the sweet (and presentable) surface that covers ugliness, animosity, and bitter realities.
Benson's bright smile? It covers a grittier set of truths.
The perfect pose of Miss Porter's? It's not immune to sex, drugs, and alcohol – becoming the norm in the late sixties.
Pete's response to his new nemesis, Bob? Mercy? Not at all. There is no pity, no attempt at comprehension, no feeling whatsoever. Bob's not off the hook; he's dangling from Pete's back pocket.
And Megan remains wan and tired – on screen in her blonde wig, and off, trying to comfort Don. She's been getting little of the sweet and too much of the bitter. Given the shooting incident with Kenny, is this yet another ominous sign of death nearby? Is Megan's increasingly ghostly appearance a foreshadowing of what awaits in the season finale? A nail in the coffin for the once flourishing marriage? Or something more dire, and beyond any mercy of any sort?



Image of Ted: Jamie Trueblood; Click to access original at AMC. Peggy, Don, Ted: still from video clip; Click to access video at AMC.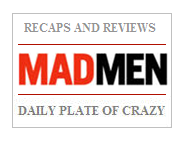 Be sure to check Mad Men Reviews weekly, or bookmark Entertainment / Mad Men.