It's not like I thought there would be fisticuffs, or a public scene, or even more than a sideways glaring look. It's not like I don't know the men I'm dealing with, both of them, intimately.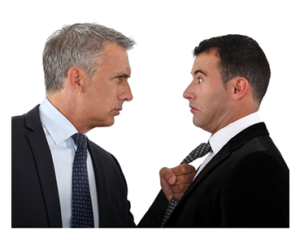 But I never wanted to expose a "Current" to my Ex.
This is a matter of knowing my Ex for who he is, and equally, a matter of protecting myself and the person I love. I cordon off as much of my private life as possible to keep negativity and interference at bay.
But it's hard to nurture a new relationship when the old never relinquishes its hold.
When the adversarial stance persists for years after divorce, when animosity is kept alive through the withholding of monies due, when commitments to children are made and then ignored or changed at the last minute, when the custodial parent is left to dry the tears, pick up the pieces, reshuffle the schedules yet again – circumstances lead you down a tiresome and potentially tumultuous path.
Bring a new man into such a murky mix? It ain't easy.
New Relationships When the Old Interferes
I'm grateful for a few lovely relationships, though they have been intermittent. There have been many lonely years of seemingly pointless coffee dates, no dates at all, a silent bed, flesh gone dormant, and tasks. Always tasks, accompanied by fatigue and money worries.
It's nearly impossible to imagine a new relationship much less begin one when there are skirmishes playing out in the background, ripple effects on the emotions and expectations of children, and disruption to work life and therefore, income.
Yet I have remained resolute when it comes to goals: staying true to the best interests of my sons, living by the integrity I hold so dear, and using my ability with words to inform, to question, to discover – and to some extent, to comfort myself through hard times. I also remember that we all experience life differently. I have no exclusive interpretation of "truth;" we each carry our own versions of who we are and how we lead our lives.
But allow someone I love to meet an ex-spouse who has caused such turmoil? To potentially judge me as a result? To expose him to any possible discomfort?
That was something I never wanted to risk.
The High-Conflict Divorce Aftermath
For those who haven't experienced a high-conflict divorce, for those who haven't spent years hunkering down in defensive mode in a strange and unending set of twists and turns, for those who are not tied to an ex through their offspring, for those who have civil dealings with a former spouse and his or her family – my life these past dozen years would sound odd, unreal, exaggerated.
For those who haven't lived the high-conflict aftermath, meeting up at the occasional family event is no big deal, or at most, mildly awkward.
If you're a woman and your ex has remarried, at the very least, you want to feel confident and look your best. Frankly, you want all elements of the presented self to gloriously offer a pointed "fuck you" to the man who walked away. That's stating it as succinctly as I can.
If the event that brings you together is a time of celebration for a child, most of all, you want the experience to be smooth and pleasurable for him or her – no matter what has happened before, or may again.
Current Love Meets Ex-Spouse. News at 11?
I fretted for some time over this meeting, appreciative that the man in my life would stand by me hundreds of miles away, putting me much more at ease – and also, sharing in the joy of the weekend events in which we were participating. With my guy at my side, the Ex would be less likely to dabble in the mind games he so enjoys, like many.
Wondering how it would all go down, I assumed both would be polite. As for the introductions, one friend suggested that I simply let my man present himself with something like "I'm John. I have the good fortune to love to your ex-wife."
That recommendation made me smile. But as it turns out, I wasn't there for the initial face-to-face and have yet to hear many of the details.
Apparently, the Ex mistook my Current for a college professor – one of my son's – and there ensued a few minutes of exchange with the former on his best behavior before he realized he was talking to the man in my life. At that point, the tone and topics switched to global business and, briefly, yours truly. By the time I returned, each had moved on to other conversations.
My Focus: Fully Me, Fully Embracing, Out from the Shadows
The father of my children has been less than scrupulous with his parenting responsibilities over these past years. I'll leave it at that. I don't believe in airing one's dirty laundry on the internet, I have no desire to hurt anyone and certainly not my sons, and telling our stories always involves judgment as to what we share and what we don't. It's a fine line to walk, even as we recognize the value in exploring our lessons, offering community in mutual understanding, and if possible – helping others who may be living through something similar.
My children love their father. I would not want it otherwise. And I have spent years softening the blows of his benign neglect, though I'm uncertain if I should have done so.
For now, one son is newly graduated from college and making his way in the world. My younger has several more years of schooling ahead of him. It's time for me to make myself a priority, and that continues to be an uphill battle. I'm good at loving, I'm good at working, I'm better at caring for others than myself.
I still struggle with trust. I may always struggle with trust.
Yet judging by the compassionate, honorable, funny, and apparently "professorial" man who loves me and handled himself so wondrously over several challenging days, I may learn from him to embrace my strengths, and the possibility of reclaiming beliefs once shattered.
Perhaps this meeting was all for the better. It may be time for a new chapter.
You May Also Enjoy