Are you waiting and watching for the Supreme Court proceedings on marriage equality – specifically, hearing arguments on banning California's Proposition 8?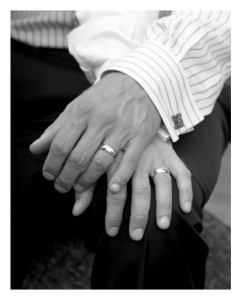 Are you following CNN or some other news source, leaning strongly one way or another – in principle, or because it concerns you, your family, your friends?
I am wary of marriage in general, believing we should take our time and set our expectations in reasonable fashion. I consider marriage both serious and sacred. But I do not see it solely as the right of heterosexuals.
I do not see the sense in denying same-sex couples the respect and benefits of legal marriage.
Like many, I've been married and divorced. Marriage is not the same as living together, and we cannot always predict the way a marriage will go, no matter how good it "looks on paper."
But for those who want their "big day" and a life with the one they choose as a partner, with all the rights and responsibilities that come with it, I believe same sex couples should have the same option to create a legally recognized family unit as a man and woman.
Perhaps like you – I wait, I watch, I read – as arguments are heard and the Supreme Court decides on Proposition 8, which banned same sex marriage in California, after legalizing it. From the CNN site, for those who may need more information:
Today's oral arguments will focus on Proposition 8, a ballot initiative that was approved by California voters in a 52-48% vote in November 2008. The vote happened less than six months after the state Supreme Court ruled marriage was a fundamental right that must be extended to same-sex couples.

Its approval immediately ended same-sex marriages in the state, but opponents of the measure challenged it in court and have succeeded in convincing federal judges at the district and appellate levels to find the ban unconstitutional.
The second case to be heard deals with DOMA, the Defense of Marriage Act, which defines marriage as between a man and a woman. You may have read yesterday that three senators are no longer supporting this act which amounts to a federal ban on gay marriage.
Same-sex marriage is currently legal in nine states. (Just one more example of how confusing it is for marriage or divorce to fall under state-specific law?)
For more on these landmark cases, no doubt contentious issues for many, visit CNN's coverage here.

Your thoughts? Is this issue cut and dry for you? Have you "evolved" in your thinking, as some like to phrase it?



© D. A. Wolf

Big Little Wolf's Daily Plate of Crazy