Last year Anne-Marie Slaughter told us we can't have it all. Personally, I believe her, which doesn't mean we can't have a great deal – you know, of the Holy Grail of family and career – but the myth of having it all, even at the highest levels, needs to exit Stage Left.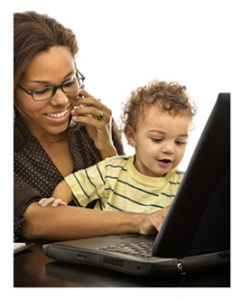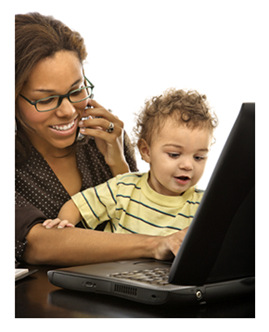 I might add that men don't have it all either. They never did. Let's face it: once upon a time, social norms suggested that the picture of their "all" was less inclusive of family engagement.
May we now turn our attention to Marissa Mayer, whose appointment as CEO of Yahoo while pregnant delighted the peanut gallery with hopes that she might be a beacon of change.
Well color me – make that us? – foolish.
Flash forward to recent news of Ms. Mayer, whose ban on remote work at Yahoo condemns a critical career option to many parents (in particular, mothers), now a No Go at her organization.
May all working moms and dads – without nannies, that is – now rise and bow our heads, shaking them wearily side to side, in dismal disbelief.
And a round of applause goes to Lisa Belkin for her take on the Mayer position as essentially ridiculous.
May I add a few terms that come to mind, say – disappointing, damaging, and ludicrous?
Sheryl Sandberg, "Leaning In"
Now mix in Sheryl Sandberg, COO of Facebook, and the flurry of articles on her new book, "Lean In." Plugged as something of an updated "feminist manifesto," the New York Times, Forbes, the Washington Post and other publications have knocked Ms. Sandberg's book and the woman herself, more or less asserting that what she's after is self-promotion.
By way of example, Maureen Dowd's opinion piece in the Times clearly disparages Ms. Sandberg's undertaking. In "Pompom Girl For Feminism," Ms. Dowd notes:
She [Sandberg] has a grandiose plan to become the PowerPoint Pied Piper in Prada ankle boots reigniting the women's revolution — Betty Friedan for the digital age.
And that's only the beginning, though Ms. Dowd nonetheless acknowledges that Sandberg
… knows there is slow evolution or even erosion in women's progress in some areas… Her book is chockablock with good tips and insights, if a bit discouraging at times.
Prospective Employers, Working Reality
And the discouragements that Ms. Dowd refers to include discussing one's plans for a family with a prospective employer – um, so as to change the paradigm.
Right.
Personally, I'd say that suggestion ranks as a sure-fire way not to get a job in this economy – or any economy – and is precisely the reason that asking family status questions violates the law. Of course, we all realize that the Internet weakens any such protections, as it's a simple task to find out who's married, who has kids, who is pregnant, and so on. We have only to look on… you guessed it… Ms. Sandberg's very own social media platform, Facebook.
In referring to Ms. Sandberg's suggestions in "Lean In," Ms. Dowd goes on to point out:
… critics argue that her unique perch as a mogul with the world's best husband to boot makes her tone-deaf to the problems average women face as they struggle to make ends meet in a rough economy, while taking care of kids, aging parents, and housework."
Until I read the book, I'll decline to comment further except to say that I'm curious to read it, and plan on doing so.
Earth to Marissa Mayer…
I may say amen to the recognition of "the problems average women face," but Ms. Mayer's position is both baffling and frightening. Banning work from home at Yahoo flies in the face of common sense, and undermines a significant structural change in the workforce that we've been slugging away at for decades, and one that is technologically straightforward, and good for both sexes.
That is not to say that she doesn't have her reasons that we may not be aware of, that remote work isn't without complications and downsides, but many of those complications are the responsibility of organizations themselves: the paradigm shift necessary on the part of senior executives and HR departments that have yet to learn to restructure jobs, much less retrain or hire managers who know how to supervise or assess remote performance.
And all of this seems utterly absurd to me, personally, having done both, dealt with both, and certainly not at such lofty levels but rather, in the trenches, where real work is actually produced.
Jessica Valenti Says "There is no perfect feminist"
Enter another perspective, a March 1st article by Jessica Valenti in the Washington Post, schooling us on the disadvantages of in-fighting.
In "Sheryl Sandberg isn't the perfect feminist. So what?," Ms. Valenti writes:
The feminist backlash against Sandberg… reveals a big and recurring problem within the movement: We hold leaders to impossible standards, placing perfection over progress…

There are certainly substantive critiques to be made about Sandberg's book. "Lean In" is mostly tailored for married women with children and may not resonate with women who aren't upper-middle-class or elite, something Sandberg acknowledges up front…

Critics have also knocked Sandberg for putting the onus on women to lift themselves up… But in her book, she frequently identifies how internal and external forces keep women from advancing in their careers. She also supports structural change, citing economic inequalities, discrimination, and the lack of paid maternity leave and affordable child care as problems that need to be addressed.
Who Speaks for Us? The "Average" Woman?
If you ask me, Ms. Valenti makes valid points. Disagreements are healthy; dissension that becomes the issue quickly dwarfs the issues themselves.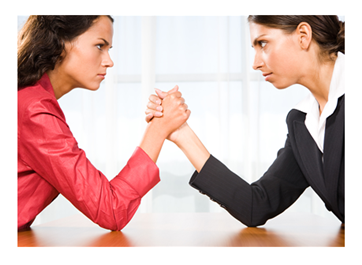 But.
Who speaks for the millions of women who can't relate to Sandberg or Mayer or Slaughter?
While the media darlings in the executive suite are slugging it out, who speaks for women in their twenties or thirties, with babies and young children, and desperately in need of income whether they're part of a "traditional" two parent family or otherwise?
Who speaks for women in their forties and fifties, looking to get back into the workforce after raising children, or those trying to hang on if they do have a job? What about the families struggling to foot the bill for kids in college – or young adults who are unable to find work? And the financial, logistical, emotional strain of dealing with aging parents? Aren't these the realities of the "average" woman?
Who speaks for the women in their sixties and older, struggling to find a means to cover the bills? Who speaks for those of us who are widowed or divorced, or for that matter single, unable to pay for medical care? Who speaks for the millions of "independents" – who fall through any so-called social safety net in an unstable and insecure non-employee workforce?
Political Action? Grassroots Movements?
Who is addressing the political and structural issues in a real way? I see Lisa Belkin taking Mayer to task, and I'm grateful to see it because she should be taken to task.
And I haven't included any mention of those who are living in abject poverty; a source of national shame that is a long and complex conversation in itself.
So what do we do? Is this divisive in-fighting or healthy debate? Should we be calling bullshit to those who would "lead" without practicable solutions, or is Ms. Sandberg assisting in keeping the conversation front and center, which is a positive, as Ms. Valenti believes?
How do we move from rhetoric to action – and whose rhetoric? Are we, the women and men who claim to care about options and family, as myopically gridlocked as an obstinate and in-fighting Congress?
Who do we look to as shining examples? As Ms. Dowd writes:
People come to a social movement from the bottom up, not the top down.
Why aren't we taking to the streets? Raising hell with our political leaders? One million pissed off women? Why aren't there 10 million or 20 million? And another 20 million pissed off men who also understand and believe?
Where do we find them, and then what?

You May Also Enjoy