Whatever your politics, you may find a presidential inauguration historic, celebratory, tedious to watch on television, or a mixed bag. If you're anything like me, you tuned in and out while tending to other matters, and you may have a favorite moment.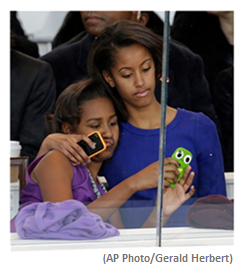 Perhaps it was the remarkable convergence of dates – President Obama's second inaugural taking place on Martin Luther King Day, and his using both the Lincoln Bible and MLK's traveling Bible.
Perhaps it was the inaugural speech and its clarity in presenting an agenda. Perhaps it was Beyoncé belting out the national anthem.
For me, it was about family.
And yes, the kissing pictures.
Sasha Obama was clearly directing her parents to kiss for a photo she was trying to take with her phone, and while they complied in good-natured fashion, big sister Malia jumped into the frame to ruin Sasha's picture! (Can you spell "photo bomb?")
How much more normal can you get, when it comes to sibling shenanigans? And how lovely that President and Mrs. Obama were willing to redo the kiss several times until their daughter was happy with the result?
Apparently, I'm not the only one who found those moments to be memorable. Huff Post Style has a series of AP photos covering those few minutes of familial affection.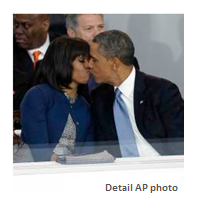 That scene was touching and real, and reminded me of my own boys when they were little, how they delighted in seeing signs of affection between their father and me – at times requesting it – and wanting exactly that sort of picture as a keepsake.
As for the rest of the festivities?
Shall we address Michelle's bangs, which seem to be all the talk anyway?
Fabulous.
Her choice of fashion – at the ceremonies as well as the balls, in her stunning red gown by Jason Wu?
Splendid.
Of more substantive significance – President Obama's speech?
Yes, I was pleased, and now I'd like to see intention become execution to the extent that it's possible in Washington these days. (One can hope.)
Best in show?
These "First Kids" being kids, and the First Parents, being parents – and the reminder that families matter. Our families may take many forms, as do our communities. But the foundations of respect, commitment, tolerance, and caring – aren't these the tenets of what most of us want in our lives? Isn't that "family," whether it's packaged up in traditional form or not?
Your favorite inaugural moments?

Big Little Wolf's Daily Plate of Crazy