When he returns from nine months in Europe, he unpacks two boxes from his luggage and sets them on the kitchen counter. I recognize them immediately.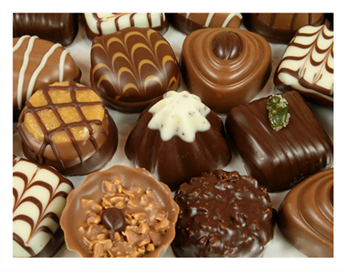 My emotions are a jumble.
Pleasure. Sadness. Suddenly, I feel older.
I admit I'd hoped he might do this. Sometimes, he's thoughtful that way, or perhaps he knows me better than I realize.
"Is one of those for me?" I ask.
And he says no.
Delight turns to disappointment. When he tells me who they're for, I get angry and quickly turn my back, puttering about at the sink so he won't see how upset I am.
"I'll never get back there again," I say.
He's quiet.
"If you want one, just take it."
Then I'm quiet.
"Don't worry about it," I say, stowing the boxes in the freezer.
History
They aren't just any chocolates. They are the chocolates, from the one and only chocolate shop in a picturesque town in a beautiful country in a place I once loved and felt welcome. It is a country I love and that I miss; it is another life, that I also miss. It was, at least for me, all about family.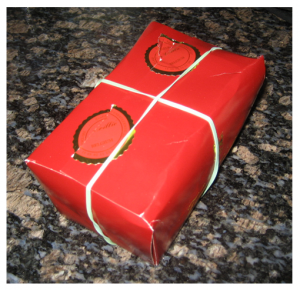 Each trip overseas involved a pilgrimage to visit an assortment of uncles, aunts, and cousins; the elderly great aunt who was once a nun and adored discussing art; the silver-haired grandfather with a broad, toothless grin and a mischievous sense of humor. He was still living on his own well into his nineties, in the small farmhouse he had shared for decades with his wife and where they raised their children, welcoming their grandchildren.
Each trip also involved a pilgrimage to the chocolatier shortly before our departure. The painstaking selection of the most exquisite "pralines" left the four of us, literally, kids in a candy store. The last time I saw this Willy Wonka House of Marvels was a dozen years ago, before All Hell broke loose and life changed irrevocably.
It was a time when my world felt safe. I know now that safety is an illusion.
Loss
I don't ask. Rather, I state my desire clearly, telling my son I want to keep one of the boxes. This isn't like me. To take. To feel a right to take.
He doesn't hesitate and he says it's fine.
When he returns to college, one of the boxes remains in my freezer.
*
Two weeks ago I needed… something. I've been struggling with my schedule, with conflicting matters demanding my attention, and worries beyond the usual. I wanted comfort of some sort. A touchstone. A speck of security in a shaky world.
For some of us, divorce is an ongoing source of ache and complexity. It catches us off guard over the years with its power to resurrect what was once good, and what was ultimately destructive. Loss is often filled with contradictions.
Divorce is more than the end of a relationship between two adults, more than battles over custody, child support, visitation, assets. It is more because marriage is more. Naturally, the undoing of a marriage leaves its mark.
Perhaps that's only right.
Opening the Past that Never Quite Closes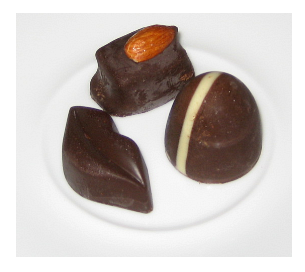 While I hope to save the box until the holidays, as soon as I break the seal and lift the red flaps, I have no regrets.
Twelve years disappear in the aroma, the layers of gold foil, the stream of images that came flooding back – my boys, little and laughing, kicking a soccer ball in a small yard with their cousins; afternoons socializing in stunning cities with my sister-in-law; coffees on family visits, coffees in town, coffees and conversation everywhere.
I pick out three chocolates, and I let them defrost. I bite the first and savor, taking my time. With the second, I make myself an espresso to enhance the experience. As I finish the third, I allow the grief to flow through me, and also, the pleasure.
The box remains in the freezer and knowing that it's there is comforting. It is a connection that is cannot be severed, however bittersweet.