Evening, September 14, 1988
Cher Jean-Marc,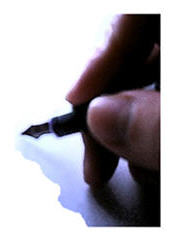 The jet lag has me a little foggy, but you were right about us and I wanted to tell you so. I worried that I was being naive in listening to your explanation and you tell me all the time, still, how young and trusting I am.
After the silence between us, then meeting again at the office, then this voyage, I will confess that the time together was wondrous.
I am unable to sleep since arriving home but it will pass. You know me and the sleeping and you know this isn't new.
But I close my eyes and I see the two of us, and I hear your whispers, and I feel your hand around my waist as we drift off. I feel you, Jean-Marc. I feel you as though you are still with me, inside of me, tasting me, loving me, knowing me in ways beyond the words of love. Perhaps this makes no sense, but I am not quite myself with you and I am fully myself with you.
Do you remember the first time we kissed, and you held my face between your hands? It was bitterly cold and you had to bend down to reach me. But of course you remember and I imagine you use whatever serves you, kissing me in that way when you are feeling your most tender, your most seductive, your most earnest – knowing the power of that particular touch. Oh, I'm not complaining, only noting and accepting.
But you are changing. Do you realize you are changing? And you have changed me.
I am digressing as usual because of the hour and I tend to unwind in expressing my feelings to you. I have missed this, and I am glad we are building our bridge back to each other – doucement, c'est vrai – but we are doing it all the same.
What I wish to say to you again is that those days and nights of the two of us were significant which may seem an odd choice of words to you but it seems right to me. I know we drove in silence those last few miles to CDG and you looked over at me nervously, as though something were wrong and it was only my sadness in leaving. Or was it your sadness?
I did not want you to see my tears. Not after the way things ended a few months ago and then began, again.
I have had enough of tears and grieving.
Do you know it has been nearly a year since my father's death? My grandmother's death still feels fresh as well, but I am coming out of a sort of darkness and I must live each day more acutely, more brightly, less cautiously. I am not entirely pleased with where we are and I was honest with you, but you know how I feel and I believe you when you tell me you feel the same.
We are alive. It is an old cliché but now I understand it. We do not know what comes tomorrow, what will end or what will begin.
I did not know how talkative you can be in the morning when you are relaxed. You speak of everything, do you realize that? Of architecture and history and politics and what you are reading. We both avoided speaking of work – and the other. It is better this way. You are right.
Though I kept my eyes on the road as we drove to the airport, I know you were looking at me. I was aware of your eyes, aware of your breathing, aware of the way you slide your wire rims up to the bridge of your nose. It is unconscious on your part I know, this habit, this necessity, this gesture I forget for the weeks or months when we are apart and then when I see you it is familiar. Such a small thing and it warms me.
I know you by this gesture, I know you by your scent, I know you by the small scar near your left brow. You are beginning to gray you know. Can I tell you that without offending you? Even the gray suits you mais tu sembles plus triste ces jours-ci, certainly sadder than when we first met and I sense there is more to the story than you tell me. You are also more open and I would like to think I have something to do with this change in you, this softening.
It is late and I am writing in the near darkness, thinking of the ways in which I know you. The sounds of your pleasure excite me. Have I ever told you that?
Cher Jean-Marc. The Atlantic stretches between us once again and I am disoriented. But I picture you – exuberant when I arrive through customs, and apologetic when we say goodbye. It is not your fault there is an ocean between us. That, you cannot change and I cannot change, at least for now.
Did you know? When I turned to watch out my window, I caught a glimpse of the most glorious colors. There were blue shutters and red flowers.
I knew, in that moment I knew, tout s'arrangera.
Yes, I will wait. For now. I do not know if I will feel this way in a week or a month. But I will wait for now, foolishly perhaps.
I will content myself with your messages and your calls, and letters I write to send, and letters that I tuck away and keep. I never know which it will be you know, when I begin to write.
I wonder what the winter will bring.
Je t'embrasse.