When I saw this on Huffington Post, I was aghast. Disrespect? Yep. Disregard for what matters? You betcha. Disapproving? Moi?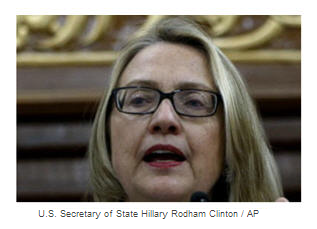 Right on the money.
Hillary Clinton has now been described as "overweight" and therefore in need of getting in shape if she hopes to run for the 2016 nomination.
Seriously?
First it was Makeup-Gate (or rather, No Makeup-Gate). It's always been the hair (to grow, to cut, to headband or not). And then there are the mentions of pantsuits, glasses, her style in general. And now, as a 64-year old woman who appears to be at a perfectly normal and healthy size – she's taking flack as overweight.
And "overweight" is used as a jab, a disparaging remark. A smokescreen.
Can we deal with the issues? The contributions of good minds to tackle extraordinary complexity and help us work our way toward solutions, and the experience to navigate the political process? Is it really in our own best interest to give a damn if those good minds come in a female body, or whether that body wears a size ten or a size fourteen?
Shouldn't we all be concerned with the economy? Health care? Families able to restore a measure of belief in the future? Global unrest?
Maybe you like Hillary Rodham Clinton's politics. Maybe you don't. But can we agree that it's time to end this archaic approach to diminishing a woman's value through disrespect, disregard, and disapproval over her appearance?
Here's to you, Hillary. And every other midlife woman – no, make that every other woman regardless of age or size – who ignores the naysayers and just gets it done.

Big Little Wolf's Daily Plate of Crazy