Thank you, Women's Voices for Change, for the shout-out to Emmy Award-winning actor Jane Lynch and her 2012 commencement speech at Smith College.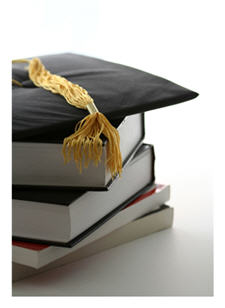 It's a funny and inspiring twenty minutes (see below), filled with humor and smarts from this multi-talented dynamo. I strongly recommend that you watch and listen, not only enjoying Ms. Lynch's wit, but the plentiful lessons from her own life – and how things changed as she began to embrace all of it.
Her words are important for women now more than ever, in this political climate. But her message is important when any of us is struggling with situations we neither anticipate nor know how to manage.
We are reminded that life is a roller coaster, and the ups and downs will form us, motivate us, strengthen us, and embolden us.
Here is a sampling of snippets from one of the best commencement speeches I've ever heard. Ms. Lynch says:
I would've spent more time focusing on what was right in front of me instead of recoiling from what is, because it didn't look or feel exactly as I imagined it.
How many of us can relate to that statement?
How much time do we fight ourselves and blame ourselves when our lives don't resemble what we had in mind? Our bodies, our careers, our marriages, our children? How much time do we waste in the process?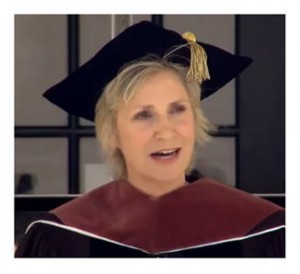 Ms. Lynch goes on to recount her life story (her comedic timing is impeccable), and she offers us nuggets of wisdom that are encouraging and reassuring.
She touches on our attitudes in embracing ourselves, the balance of accepting what is and working for change, the importance of poking holes in assumptions and continuing to question.
She speaks to work, relationships, and family.
She addresses the inevitable passage of time – the surprise of aging – and the need to accept whatever life throws our way and greet it fully. She does so with great thoughtfulness:
You will experience loss, heartache… rejection… you'll age…

The trick isn't to avoid these times or pretend they're not happening. Because you can't. What you'll need to do is step up to them courageously, and embrace them… They will not only strengthen you but soften you, and you will open your heart to compassion.
Naturally, compassion isn't the only result of weathering tough times. Ms. Lynch talks about fear and pushing beyond it, tossing out plans (planning is for "wusses") and taking risks.
She speaks to the value of "yes, and" rather than "yes, but" or simply – no. It's about getting out of our own way, greeting life full on, and while saying no is important, saying no out of fear isn't the way to go.
It's a marvelous speech. Share it if you like – with all the women and men who may need to hear these words today – or any day – to focus on the essentials.

Big Little Wolf's Daily Plate of Crazy