Did you know it's Election Day in France? Eh oui! Grab your baguette, your Figaro, and enjoy Round Two as Nicolas Sarkozy and François Hollande face off, with socialist Hollande projected to win.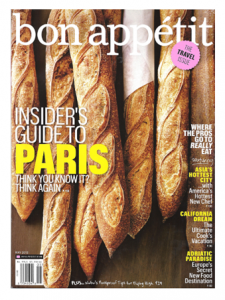 Now now, don't let that "socialist" label throw you off. We do have a tendency to quickly categorize, rather than looking beyond the label to see the ideas, issues, and practices involved.
More simply put, Monsieur Hollande favors retaining social programs, pumping money into the economy and, yes, taxing the rich – in order to deal with France's economic woes. President Sarkozy, who has been in power for the past five years, is viewed as right of center.
French political parties?
To most Americans, we're more able to grasp French dinner parties.
Rather than a (theoretical) two-party system as we have in the U.S., some five or six major parties are the norm in the French elections. (And if you'd like to read a little, pop over to Le Figaro in English if you like.)
Do You Follow French Politics?  
I find myself increasingly interested in watching what is taking place in Europe, though I have much to learn in that regard. (I'm reading, I'm listening, I'm watching – as much as possible.)
Then again, I'm trying to do the same when it comes to our elections.
What about you?
All politics aside – do we think the outcome of the 2012 election will affect French style? Our passion for French cuisine, French design, French fashion?
My Sunday Style
Being in a Sunday sort of mood, and not up for running out to purchase the Times – later perhaps? – I am indulging in a few minutes with my favorite magazines. This month's Bon Appétit dishes up delectable images of French bread and a nifty list of eateries to visit in Paris.
AD (Architectural Digest) France – a splurge, I admit – features stunning interiors I couldn't resist.
This room?
I'm madly in love. Follement amoureuse, which doesn't mean I would live with it exactly as it is. But it features a Jean Prouvé shelf (étagère), Panton chairs (from Vitra), a Sol Lewitt gouache on paper (from 1986), and the uplifting mood of primary color.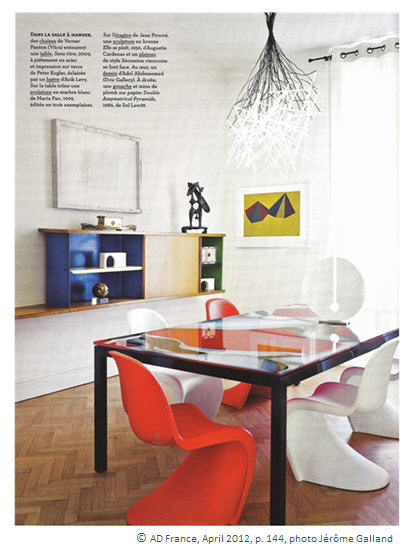 Please note – the Architectural Digest article is written by Esther Henwood, photographs by Jérome Galland, and describes the interiors of a collector with a delicious combination of furnishings, sculpture, paintings and works on paper.
French Design in All Its Variety
If there are "rules" to design and interiors in French homes, my observation is this: It isn't so much about explicitly breaking the rules as it is the confidence to mix what you love, focus on quality, reflect who you are, and not lose your sense of humor or whimsy.
Naturellement, there are the French styles we're more familiar with – both rustic and over-the-top elegant. (Bonjour, Versailles?) But my style preference is the mix of old and new, hard and soft, cool and warm – as expressed in many of the homes I personally have visited.
From the same issue, this room reflects an equal delight in mid-century shapes and colors. Note the curvaceous couch in deep purple, and the air of insouciance in the Italian red chairs. The article is written by Sylvie Thébaud, with photographs by Paul Lepreux.
Your Style Elections?
Regardless of who wins the French Presidential election (and I think we know which way it's leaning), I doubt French design will diminish in elegance or its iconoclastic chic.
Are you following the issues rather than the rhetoric on the American scene?
Are you a fan of French chic, French food, French interiors and fashion?

Cover of Bon Appétit (scanned), May 2012; Architectural Digest (France), Avril 2012, p. 144 and 150 (scanned); photos by Jérome Galland and Paul Lepreux, respectively.


© D. A. Wolf

Big Little Wolf's Daily Plate of Crazy