Tune in, turn on, but don't drop out?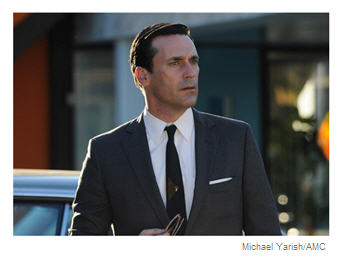 If there was ever any question that Mad Men would bite off a piece of the Psychedelic Sixties, there's no doubt about it now. Pass the acid tabs at an upscale dinner – hosted by none other than Timothy Leary.
And who's in attendance?
At the instigation of his unhappy second spouse – Roger, and a very mod, mod Jane.
Roger on LSD? You got it! That's Lucy in the Sky with Diamonds – starring Sterling and Wife.
This freaky episode starts out sanely enough, with an irritable and nervous Peggy getting out of bed with boyfriend Abe, stressed over the Heinz presentation, later blowing the Heinz presentation, and neatly (comically, strangely), doing a "job" on a stranger in a movie theater while stoned on pot.
Talk about out of character for the nice Catholic girl in 1966! Then again, maybe not.
Everyone is an Outsider
Far away places? I'll say! This episode catches us off-guard, drops us into the the psyches of several characters, renders them awkwardly alien, and pits them against their personal demons, seemingly solo – spilling their guts, or fighting from what seems to be another planet – a reference rippling throughout the hour.
Drug-induced or not, Peggy, Ginsberg, Roger, Jane, Don, Megan – each takes a magical mystery tour of their own trippy truths. They arrive more or less intact, though shifted somewhere we can't quite determine, with consequences we can't yet assess.
Shall we all rise and chant the brilliantly crafted dialog in which Don finds Howard Johnson's to be a colorful destination, and Megan more accurately characterizes it as a truck stop along the way to some other destination?
Confused?
So is the audience through this tantalizing episode, but so delicately rendered is the foreboding, we wonder if our vague dread is real or imagined.
Don in the phone booth, shaky and a little crazed?  Hello, Clark Kent, phone home to your planet? Another Fever Dream?
Holy HoJo's. I'm in need of a more sequential recounting!
Season 5 Episode 6: The (Unstoned) Recap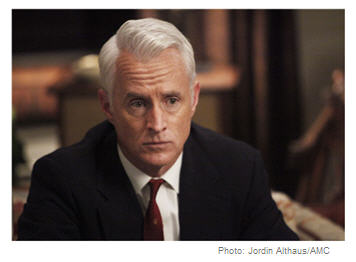 Peggy fights with Abe. She's nervous about college kids and beans. She presents to Heinz, but the campaign ain't no An-ti-ci-p-a-a-a-tion…
Peggy bombs without the support of Don, who's taken off with Megan to upstate New York on a boondoggle to Howard Johnson's HQ. Nice show of self-confidence from Miss Olson, though she's put down as a "girl" whereas Don likely would have won the day.
As for the happy couple who is MIA, Don and Megan fight over orange sherbet on their turquoise banquette at HoJo's. But of course it's about more than that – Don is controlling and Megan calls him on it. The disagreement turns nasty, Don abandons a peeved Megan in the parking lot, but when he returns, she's disappeared.
He's panicked. We're panicked.
Has Mathew Weiner just killed off Jessica Paré?
Mad Men's Impeccable Visual Style
I interrupt this recap for a commercial announcement… Make that an admiring observation.  Look at these evocative visuals! 
Not only is Megan dressed in HoJo's hideous hues, but the wide zig-zag pattern of her sweater suggests the angular pitch of Howard Johnson's signature roof design. The night scene that follows with Don in the phone booth is equally elegant, coordinating its colors to the blue steeple on the orange roof.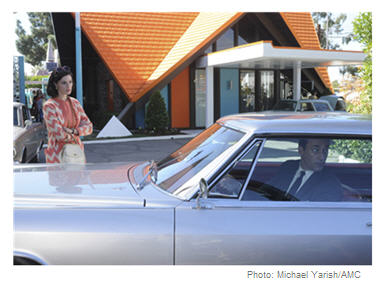 Diamonds in the sky indeed!
Returning from our commercial break – back in the city, Peggy leaves the office, upset after the No Go on her pitch she describes as "young and beautiful."
She strides out, heads to the movies, and smokes a joint with a stranger in the theater. When he puts the moves on, she turns the tables, offering him an unexpected "hand," then returning to SCDP, where she promptly scrubs up and falls asleep on Don's couch.
Subtle? Funny? Poignant?
And let's not ignore the wickedly wry stroke of fun to set Peggy's encounter against the Born Free backdrop! Is our intrepid secretary-turned-copywriter Elsa the Lioness, raised in domesticity but reluctantly returning to the wild?
As attempts to acclimate Elsa fail, Peggy settles back in her seat – as if talking about herself – and murmurs:
"She's not going to make it out there on her own."
Cue the narration (Peggy's hand not missing a, um… beat):
"That evening, we suffered all the worry of parents of a teenager out on a date."
As for the unhappy Sterlings, Roger and Jane bicker on their way to a party. Turns out it's chez Timothy Leary where they eat, drink, drop acid, and eventually speak to each other about their marriage honestly.
The gist? She's waiting for him to say he wants out; he's waiting for her to do the same. The next morning, that's exactly what he does. Gracefully and calmly, Roger leaves Jane.
Where's Don? Where's Megan? Where's the Beef?
Don, up all night and distraught, eventually drives back to the city where he finds Megan. They fight, they speak candidly; she clearly has him on the ropes.
In meticulous Mad Men fashion, the Drapers wind up on the floor side by side and staring at the ceiling, much as we saw Roger and Jane, discussing the end of their marriage. But Don and Megan aren't at the end; their fights are extremely revealing and bring them closer, while simultaneously exposing the fissures in their relationship.
Ironically, Roger seems more able to go with the flow in this episode, even when it comes to his dealings with Jane. Don in contrast is undeniably out of sync – with the office, with the times, and with the concept of Megan as her own woman.
The Jewish Question
Beyond the usual dribbles of Anti-Semitism, this episode serves up interesting positioning on Jews as aliens, Jews as a special sort of outsider, as well as Jews and Christians in bed together – literally – at home and in the workplace.
Ginsberg's story? He shares the details of his odd birth; apparently he was born in a concentration camp where his mother died, and five years later he was found by his father in a Swedish orphanage. And he says "But that's not possible, right?"
He falls back on sorrowful attempts at humor:
Actually I'm from Mars… I'm a full blooded Martian…. Don't worry there's no plot to take over earth. I'm just displaced."
And there you have it. Everyone is displaced.
And anything is possible?
Cue Ginsberg's disheveled Jewish Poppa popping by the office, a morning-after convo between Roger and Jane in which it's mentioned that she was speaking Yiddish while stoned, and the Jewish presence seems more pervasive than we realize – all the while this viewer finds herself wondering why.
Odd choices (setting the stage for what?) in a series of happenings that are all about being an outsider – or feeling like an outsider – in your environment, your marriage, your history, your own body. Displacement isn't solely a Don-Dick issue; it's a sign of the turbulent times.
"Mother Mary Comes to Me…"

A few more (musical and other) notes?
Don is whistling a Beatles tune in the car as he and Megan drive upstate. "I Want to Hold Your Hand." Perfect, for his love-high en route, though should he be singing a different tune a little later – possibly – "Let it be?"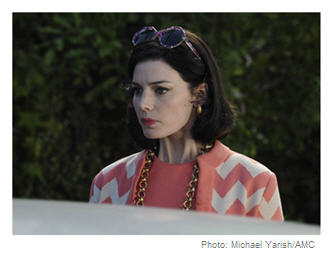 We know Don is motherless. We know he worries about his children, at least a bit, and their mother. He seems to find elements of the mother in Megan, which aren't lost on us in this episode's closing scenes.
The contrast of Don's whore-for-momma and Megan's mother, with whom she has a good relationship but speaks another language – literally – should we take note that her name, Marie, is French for Mary?
Weiner's wily juxtaposition of Madonna-Whore musical maternal material?
When Don panics, thinking Megan may be dead, initially, he behaves like an adult – asking those who might have seen her, checking around the parking lot (where he finds her sunglasses on the ground), then making calls to see if she's been in touch with anyone.
As the hours wear on and his fear (and guilt) grow, he sinks into childlike doom and paralysis. He's dazed. He's withdrawing. He never calls the police; he ultimately spends all night inside the HoJo's, despondent and hoping she will somehow reappear but fearing the worst. Only when a state trooper happens along and wakes him, does he tell him what happened and the trooper says she's probably fine but he'll watch out for her.
When he and Megan are reunited – she traveled back to New York by bus – they fight bitterly, and then Don clings to her, his head buried into her midriff like a little lost boy hanging on to his mother for dear life.
Megan really is Don's world these days – the sexy wife, the co-worker, the playmate, the kinder mother to his children, the woman he wants to mother another child, and in some respect – the mother he never had. What he does not want her to become is the self-sufficient adult she is and he refuses to see. And this is exactly what she is rebelling against.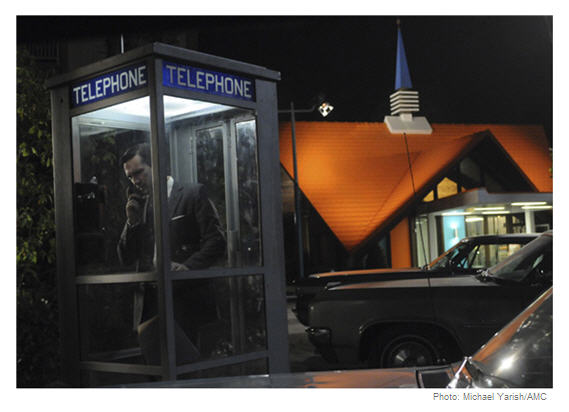 Mad Men's Marital Lessons?
Though we're certain now that Don is committed to Megan (more so than the other way around?), it's clear that he can still destroy the relationship.
Megan says: "Every time time we fight, it diminishes us."
Their fights are few, stormy, at times passionate, and in a way, they reveal more of each other as the result of a major blow-out. I'm not sure I would agree with Megan that it diminishes them, but the fact that her character thinks as much doesn't bode well. Perhaps, if she were older than 26, she might see that raw as they are, their disagreements bring them greater knowledge of each others' vulnerabilities, paving the way for extraordinary intimacy.
Will Megan stick around for Don acting out? Will she inadvertently say things that cut him to the core and put a wedge in the relationship? Will he allow her to be a grown up woman at the office?
Burt's menacing manner at the episode's close suggests that he had better. It's necessary for the agency, and even more so, for the Draper marriage.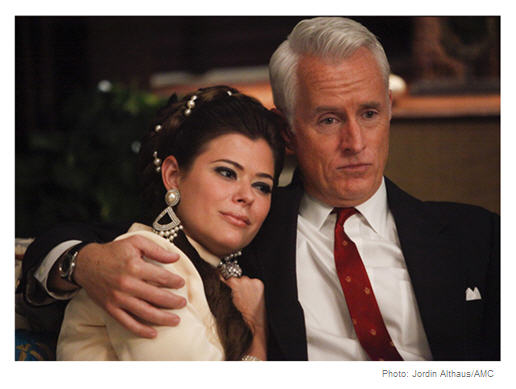 *Note: Lucy in the Sky with Diamonds: The Beatles, 1967; classic LSD music from the 1960s.
**Note: Lyrics to Beatles' "Let it Be," 1970.


Season 5 photos: Click images above to access originals at AMCTV.com.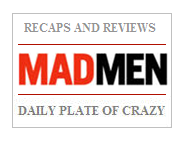 For more musings and reviews on Mad Men, pop by here.


Big Little Wolf's Daily Plate of Crazy