Are you territorial about your work space? Your kitchen? The sock drawer?
Is the configuration of your environment so important that it causes a strain between you and the Hubby, you and the Girlfriend, you and the roommate?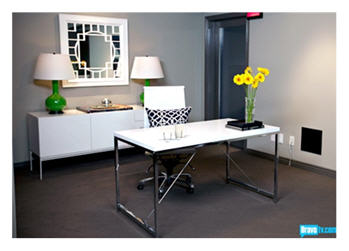 I've spent weeks combing through piles and files, not only to prepare taxes and financial documents necessary for my sons, but in an ongoing organization project which coincides nicely with empty nest.
I've been cleaning, stopping to sort, trying to shed, and shedding a tear on occasion as I tread lightly over difficult emotional territory, and then hope to move on.
A friend offered to assist at one point, and I initially said yes. But his kind attempts to help created more work for me, as I stuck my nose into every decision he wanted to make, particularly regarding what to throw out, and what to keep.
Someone Call Jeff and Jenny!
Has anyone else been watching Jeff Lewis on Interior Therapy?
I seem to be the caretaker of Too Much Stuff for my college kids, Too Much Stuff from past lives, and also my now deceased parents' belongings. Yet I don't believe I qualify as a hoarder. Not even close.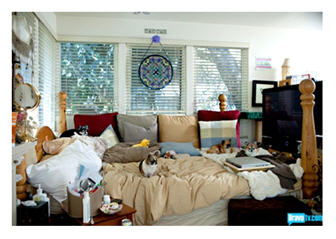 Hey! You've seen my favorite chair and cool notebook! (So you know it isn't that bad.)
Still, while my house may not resemble an Interior Therapy "before," the combination of working from a home office, a small living space, and an affinity for books, books, and more books – well, it demands creative solutions and excellent organization. 
Yet the challenge runs deeper.
I'm faced with the legacy of memories to go with a 12-year marriage, legal documents that trace the skirmishes that followed, and objects that remain emotionally charged as a result. In that respect, watching Interior Therapy, I understand the difficult state of those who have invested their hearts in the "stuff" that surrounds them.
Divestiture? No simple matter.
Someone please call Jeff and Jenny!
Control? Not Exactly
On a musing about these attempts to tidy up, and the possibility that I, as a woman, might be a control freak resisting the help of a friend, one reader – Robert – had this to offer.
You can't gauge control-freakiness without engaging the concept of territory. It isn't being controlling when you are having to assert rights to something which should be yours unquestionably.

And the question of "who should have what territory" is where the problem often lies.
Robert's words make perfect sense to me, and I realize that some of us lay claim to territory more aggressively than others. Or, we defend it, when it feels encroached.
My tiny post-divorce home is mine, more so now with my sons in college. Some boundary felt transgressed when my friend began to help. I simply didn't recognize it at the time.
Man Cave
Is a "room of one's own" (or a little house) the issue? Is it more important to some of us than others, based on our life experience?
I consider the concept of the man cave, and come to understand that while the words weren't used when I was growing up, my father nonetheless was "allowed" his areas for trophies and other items my mother didn't find aesthetically pleasing. Likewise, he had a dedicated area where he could sit, relax, read, watch television, listen to the radio – and even… putt!
Essentially, his territory was the living room, where he pursued these activities in comfort, and without interference. Somehow he had laid claim to that space, and my mother more or less, to the rest of the house.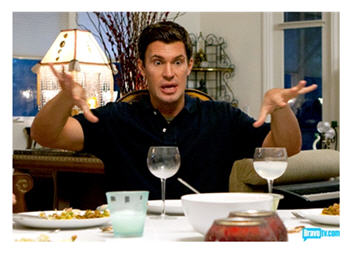 As for my dilemma with cleaning out and cleaning up? How painful would it be for me, even if Jeff and Jenny were here, to deal with the agendas, the letters, the photographs, the unopened boxes that were my mother's and my grandmothers? What about the bittersweet nature of the photographs from my marriage? Is this about territory – or therapy?
Interior therapy, indeed.
Territory and Jealousy
As I think about territory, and the objects, pastimes, or personal spaces we don't want compromised, my thoughts wander to jealousy – to the way some people are territorial about others.
Who hasn't known the close friend who doesn't want to share you with another acquaintance? What about jealousy in a relationship that has no "basis" other than territorial claims?
What about the husband or boyfriend that you don't want, but as soon as someone else is interested, you hang on for dear life?
Yes, humans are animals – and we could debate the many ways in which that is true. As for our territorial tendencies, are they more prevalent – and pervasive – than most of us realize?
Are you territorial about a particular part of your life?
An area of your home – a private drawer, your side of the bathroom cabinet, your closet, your fridge shelf, or maybe even the man cave?
Are you territorial when it comes to people – jealous of friends or romantic partners?


Click on images to access originals in full size at Bravo TV.


© D. A. Wolf

Big Little Wolf's Daily Plate of Crazy