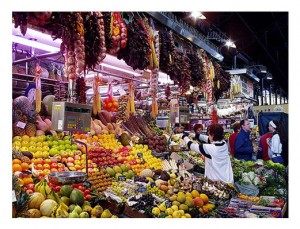 Paris, nine days, $1300.
Nice, on the Riviera, fourteen days, $1260.
Barcelona, ten days, $880.
Yes. Spain it is, though I've never been there and I don't speak Spanish. But I tell myself I'll manage, popping CDs into the player in my car, listening as I fall asleep, cramming language lessons into my consciousness and my dreaming.
Get away? Somewhere? Anywhere? You bet!
At least, in my dreams…
I can picture the winding streets I've seen on film, the fruit market overflowing with aroma and color. I want heat on my winter-whitened face, midnight meals in noisy cafés. I want freedom, mobility, reminders of another life – a single life – young, strong, curious, carefree, alive.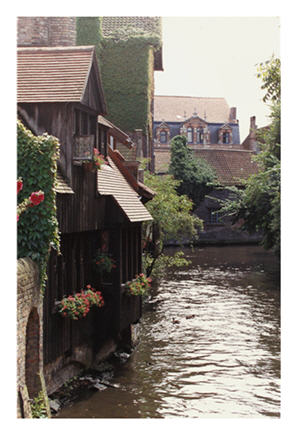 * * *
I am wandering a crowded marketplace, jostled on every side. It's Europe but it's not; I can't make meaning of the words in the air, at moments believing they're Dutch, then Greek, then Arabic. Only occasionally do I hear heavily accented French which allows me some sense of orientation. But it doesn't last and I'm lost again in a sea of sound.
There are women who are my size and the swell of this crowd is manageable; some barter and gesture, arguing feverishly with vendors or with men I assume to be their spouses.
Now the midday sun beats on me and I'm suddenly tired. I make my way to a deep red awning and speak to the proprietor in French, asking if I may stand a few minutes in the shade.
And the streets empty. The air cools. I am in another city, strolling along a canal, then walking along an unpopulated road. The quiet is unsettling and the sky is low and heavy with mist. Now I pass a castle and know that I have seen it.
This is a ghostly place. I'm searching for the train station.
A middle-aged woman in a car picks me up and drives me to the edge of a whitewashed tunnel. "Go the rest of the way on your own," she says. "You will know where you are."
* * *
I long for the action of my foreign familiar, and that has always been Paris – Paris where I am at home, Paris where I am more alive than in my dreaming, Paris where I am happier more often than not, Paris where even unhappiness offers rewards of darkly marauding intensity.
Paris, only a subway ride away.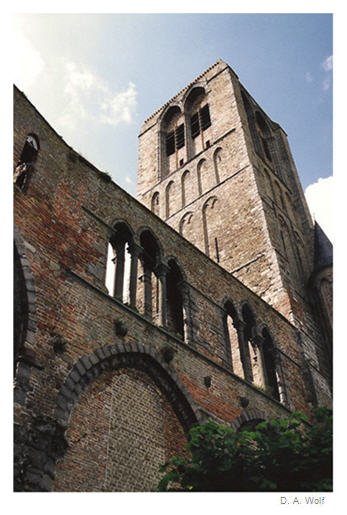 * * *
In the morning after dreaming there is energy that doesn't dissipate. There is the itch to travel – really travel – stark and pointed. I pour over travel sites again – airline sites and tour packages and special deals for winter.
I cannot afford to go anywhere but the desire reassures me, and in a few minutes online I find Paris for $1300, Nice for $1260, Barcelona yet to be discovered – at $880.
It isn't so much where I go as the fact that I can imagine it. Uncertain of the destination? Of course. But pleased that in my dreaming I reject the quiet, contemplating instead a vigorous and expansive space of mind.
Do you dream of places you've never been?
Are you younger or freer when you dream?
Where would you go – right now – if money (and responsibilities) were no object?


*Image of Barcelona Market, Flickr / Jasmic, Creative Commons 2.0

*Images of Belgium, Yours Truly
Big Little Wolf's Daily Plate of Crazy