Do you read to your little ones? A real book – with paper pages that smudge and yellow, and a bound spine of some sort?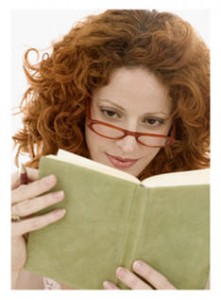 Did your parents or grandparents read to you as a child? Does the pleasure of reading fill you with a state of calm?
Time to read – an actual book – has become something of a luxury in my life, to my dismay. But I've made it a point to move reading back up the priority list. Way up, and at night, just before sleeping, to enjoy propping a book on my lap, to dog-ear a particularly memorable page, and rather than write in the margins (I'm of two minds on that one), I jot sticky notes and affix them to important pages or those I'd like to revisit.
The best?
When I'm so caught up in the words – in the characters, the story, the beauty of the language – that making notes is the last thing on my mind. I can't put the book down, period. And that's thrilling.
I recall being read to as a very small child, though I was left to reading time at night on my own while still fairly young. That said, I have books from the 1930s and 40s that belonged to my parents, and I love that I can still touch them and marvel at the tinted illustrations, the sense of history in their wear, and the knowledge that these books survive generations.
One I recall with great fondness is Robert Louis Stevenson's A Child's Garden of Verses. And somewhere on a bookshelf in my home is Hitty: Her First 100 Years, which is enchanting.
Books are memories. Books are treasure. Books become a bonding experience between parent and child, and child and imagination. Books – oversize and hefty – were also my first introduction to some of the world's greatest art.
Not too long ago I came across this article on Time, addressing the need to read to children at bedtime. Not e-books, but actual books. The article cites the feel of the paper, the coziness factor, the ability to interact with pop-ups and their varied materials, and naturally – the shared minutes that are so important in this traditional parenting task.
And some of that time (and discussion) is the laughter that occurs and the infinitely fascinating questions generated by a free and open young mind.
I didn't receive a Kindle for Christmas (I'm certainly not against it), and I wouldn't be averse to eventually owning one. But when it comes to the rightness of reading in any form of any sort, I'm in favor of as many options as possible, and the common sense to know when one will bring the added sensual dimensions to a glorious activity.
I love my books books books everywhere! Even more, that from time to time my sons will recommend something they read, and want to share their thoughts on it with me. What's better than that? Passing on the love of reading?
Do you read to your children?
Do they sneak their favorite books after lights out?
Do you use screens for certain reading and more physical texts for others?
Do you have a favorite book or type of book?
Is reading a necessity in your life, or has it become another casualty of dwindling free time?

Big Little Wolf's Daily Plate of Crazy