Next Great Artist?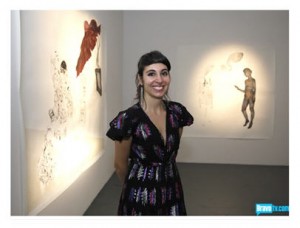 That particular television hype isn't to my liking, but the Season 2 Finale of Work of Art provides a worthy competition for Young, Sara J, and Kymia, as all three put together an exhibition at the Phillips de Pury Gallery. By now, you already know that Kymia Nawabi takes the grand prize with a show that is cohesive and accomplished. But let's look more closely at how and why she takes the win.
Kymia's inspiration?
Work of Art Finale: Kymia's Show
With the death of her father in a boating accident in mind, Kymia's show is named "Not For Long, My Forlorn," and explores spirits both gone and departing.
Fortunately, Simon's studio visit persuaded the artist to ditch early sculptures (a dreadful creature with diamond eyes was among them), and Kymia does what she does well. She creates strong and (what appears like) streamlined compositions with partially present figures, and symbols of transitions from life to death.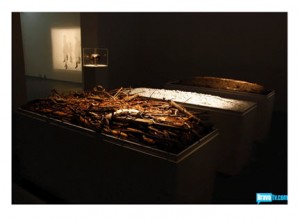 Kymia's drawing skills are indisputable. While it's difficult to distinguish on the television screen, she seems to use an interesting mix of materials (with texture and sparkle), and is masterful with small-scale pattern juxtaposed with large areas of freer form line.
Her inclusion of a trio of sculptural graves provides a sort of anchor to the lighter aspects of her paper pieces. They are made more eloquent through scale and materials (sticks, earth, and something in white I cannot make out), and she achieves a peaceful rather than macabre quality, overall.
Note to Bravo: Please include mediums / materials with the images.

As for Kymia's works on transparency, they seem less confident, more experimental, fuzzier in concept as well as imagery, but not without interest. I suspect some of the compositions are not as strong, though the layering of surfaces makes these difficult to appreciate on the small screen.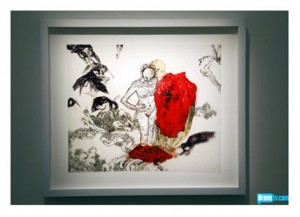 Still, Kymia doesn't over-complicate with color or other elements in this collection, understanding restraint. If you look at her work in this final competition and compare it to her portfolio, she appears to be exercising a growing set of smart editing skills. By way of comparison, her output is more visually pleasing than Lola's (for example) because she doesn't bombard our senses.
One of the more memorable artworks is Kymia's drawing / painting of a boat set adrift, exemplifying her ability with detail, a wash of color, varied materials, and a field of white. The result is a clean but compelling image that we want to explore more closely.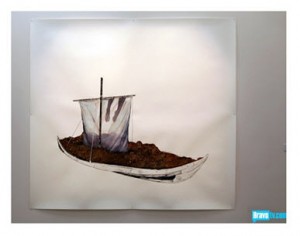 One more element in Kymia's favor? Her work is saleable.
Installations make for engaging immediate viewing, but let's not forget that one artwork was to be auctioned off. We can imagine Kymia's drawings impeccably framed and displayed in a variety of settings.
You may view Kymia's portfolio at Bravo TV here, and her official web site here.
Work of Art Finale: Young's Show
Young Sun Han has consistently performed as the most professional and cerebral of the group in many respects. He knows what he wants to do, he knows how to incorporate input, and he knows his strengths.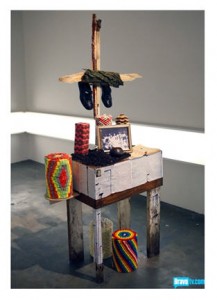 As a socially and politically inclined photographer-installation artist, Young's original concept for the final exhibit blends his father's death, his mother's battle with cancer, and statements about South Korea which he expresses through a constructed platform in which he places select individuals and photographs them.
Simon points out the disconnect in themes of death on a personal scale with larger political issues. Young is encouraged to narrow the focus to family and loss, and "Bool-sa-jo" as his show is entitled (meaning "Phoenix") primarily features assemblage and imagery that form a shrine to his deceased father and others whom he loves.
The result is a patchwork of portrayals and objects which seems to touch China Chow greatly. For those who have watched a parent die, I imagine his exhibition of remembrance is universal without dipping into the maudlin. It is this quality of transforming personal references into universal truths – ideally in a new way – that we expect from art of this sort.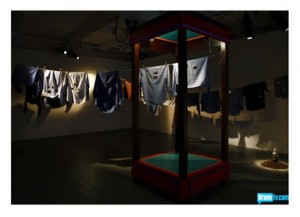 It's the "new way" aspect of Young's exhibition that leaves me wanting. I've seen shrine-like assemblages before and many times, but with different faces and mementos. I admit that it takes an extraordinary installation of this sort to affect me on any visceral level. (Might I interject that I saw one such installation by artist Wangechi Mutu, which left me in stunned silence. I returned to experience the exhibit several times, to similar effect.)
As to Young's undertaking, the whole is well orchestrated, well lit, and well executed, yielding a less sterile feeling than some of his other work.
Don't misunderstand me: I like Young's artwork, and it makes me think. But I am not enticed visually or aesthetically to examine line, shape, color, or materials. Nor am I drawn into a realm of emotion or imagination, though viewing his work on the small screen likely doesn't do it justice.
Work of Art Finale: Sara J's Show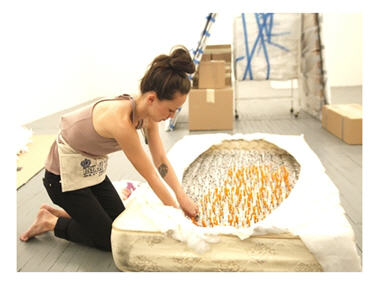 Titled "Anonymous Contemplations," Sara Jimenez's exhibition touches on death as well, but within the broader context of seeking out the fears and worries of others, by soliciting their confessions. She dons a bizarre bird-like head and becomes an aviary Father Confessor, as she solicits passersby to write their anonymous confessions.
From this performance piece – a dramatic departure for her – she creates paintings and sculptural works that address specific fears to do with death (fear of HIV following shared needles), lust (we have a furry bikini and a pair of sexually suggestive paintings), and other constructions which I don't fully understand in the context of a single viewing of the finale (the spider web comes to mind).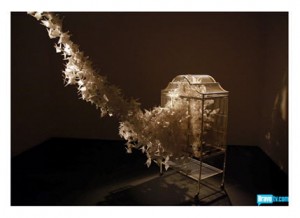 One of the more appealing vignettes is Sara's cage of folded paper birds that escape in an elegant upward stream.
And "vignettes" is key. Perhaps the problem with Sara's show is that the connective thread is more of a dotted line rather than something tightly drawn. And the judges seem to agree.
Ironically, having produced figurative drawings and paintings which were to my liking in earlier challenges, Sara's more childlike images are less impressive. More striking are some of her sculptural pieces. In addition to the cage and paper birds, her bed of syringes is a potent visual, the result of gutting a mattress and filling it with hypodermic needles.
The Sucklord Riseth?
One of the more memorable moments of the "The Big Show" includes a few seconds of the Sucklord bestowing a Jerry Saltz action figure on… wait for it… Jerry Saltz! And not just one, but two. A standard action figure, followed by a glow-in-the-dark version.
Are we looking at a Sucklord Spinoff?
As for Season 2, there may have been fewer fireworks, but those of us who enjoy watching art in process, we were less disgruntled than in Season 1. Even under the proverbial gun, in strange circumstances and with bizarre constraints, we laughed a little, learned a little, and anything that expands awareness of the arts to the masses gets this television viewer's thumbs up.
Stop by here for more Work of Art Reviews, Season 1 and Season 2.
To read Jerry Saltz recap the Finale, pop by New York Magazine. 


Images courtesy BravoTV.com. Click on images to access full size originals at Bravo.


© D. A. Wolf

Big Little Wolf's Daily Plate of Crazy