Rolling right along, it's time to rev those engines for the car parts challenge!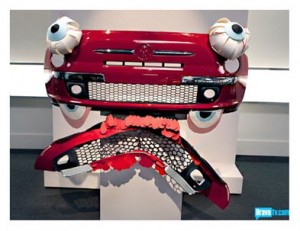 Take one red Fiat 500, deconstructed, and gather ye axles and pistons while ye may. The mission is to create a work of art showcasing at least one component of the vehicle, while impressing guest judge, performance artist (and automotive designer) Liz Cohen in the process.
Who's still standing to name that tune-up? Only seven for Episode 7: Young, Dusty, Sarah K, Sara J, Lola, Kymia, and Michelle.
Unfortunately, several of the artists get off to a slow start. Michelle channels Jeff Koons and plays with balloons. Dusty goes for a plaster facial mask. Lola does… whatever it is Lola does, and while stirring a sparkling sorceress brew to paint her parts.
When Simon intervenes, half the crew takes a pit stop to rethink their direction.
Young's wire-inspired robot is, by the way, entertaining. Do I like it? Not especially. But it meets the requirements of the challenge.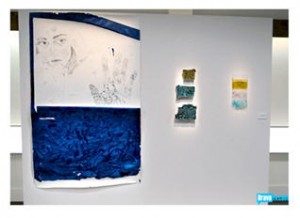 Dusty's first attempt – his face trapped inside a wheel, as he recollects an accident?
Good concept, but the execution is a dead end.
Michelle's dangling sculptural something? Childish. No heft to hold its own with the  curvaceous and gleaming hood which she has to work with.
Sarah K and Sara J? They're cruising along.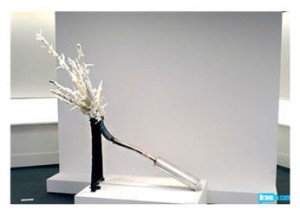 Kymia wins gold when she discovers she has the key to the ignition, but goes off starry-eyed trying to recreate the key to the universe. In the process, she grinds her main component into oblivion and sprinkles it inside a box. Black hole is more like it.
Lola settles on another scattered installation of unrelated elements (accompanied by a concocted yarn).
Sarah K pulls out a large-scale work that relates to her father's death and is visually striking.
Sarah J focuses on materials – certainly an opportunity in a challenge like this one – and she transforms them into something strange and beautiful, pulling out the win as a result. And, might I add, she'll drive off with $25,000 for this episode – money for graduate school!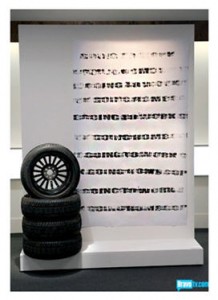 Dusty's installation of stacked tires and linear message on commuting is good enough to keep him around for another episode.
Kymia's broken box of nothing? She missed the mark but the judges give her props for an original idea.
No such luck for Michelle who switches gears but can't keep up. Her happy-car-sad-car peers at us like a poorly planned animated character. She's been offtrack many times, and though you may think she got the shaft, she's finally out of the race in Episode 7.
Do note the difference in impact between Lola's installation and Dusty's. I point this out so you can see why Lola's is a problem (scattered elements, nothing visually relates, scale as well as materials and theoretical "meaning" are all over the map). Dusty's, in contrast, offers a straightforward message ("Daily Commute"), and is visually pleasing with his stack of tires topped off by one facing forward and this vertical element, juxtaposed against the horizontal traffic lane-like printing of the words "going to work."
As for the guest judge, Liz Cohen, glance at a few images here.
This episode offered a pleasant ride, but I would have preferred a more scenic view.
And if you missed an episode, pop by all the Work of Art reviews and enjoy!

Images courtesy BravoTV.com. Click on images to access Bravo TV's originals.