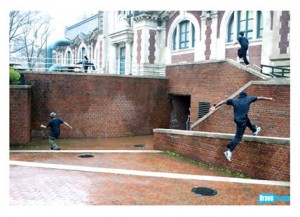 I seem to recall that last season's second episode on Work of Art involved creating something out of a trash heap. Were this year's participants channeling their predecessors?
Treated to a performance of urban tumblers (Parkour) – skipping and flipping – the artists were charged with a Movement challenge, which they seem to have taken in every direction except the most logical.
No logic in art? No problem.
Wild creativity instead? I'm all for it! But we didn't see either, almost without exception.
Split into two teams, the artists were tasked with producing individual works to do with movement, inspired by their Manhattan stroll, with each group's creations forming a cohesive conceptual whole. Rather than observing the energizing examples of motion that surrounded them (people, crowds, buses, cabs, flashing lights – this is New York after all), the contestants opted for picking up scraps along the curb.
(Say what? The Junk Challenge?)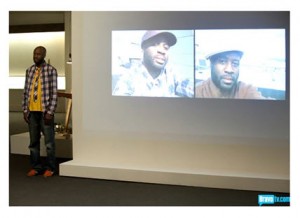 There was initially talk (and construction) of poop and goop – which the Sucklord rightfully referred to as shit – but after both teams took a scolding from Simon, they turned to revising their themes to "Playground" and "Loop." From tumbling to bumbling, then bumbling to stumbling?
Sara's sculpted child-avec-vagina on a swing? Bad.
Lola's shredded paper ball with some sort of umbilical and utterly inanimate? Worse.
Tewz' painted junk hose, and yellow hand mounted on a white circle? The judges remarked that it was static and communicated next to nothing. I'd say they were being kind.
Organ-obsessed Kathryn's video of blood and guts tossed into a plastic bag?
Disastrous.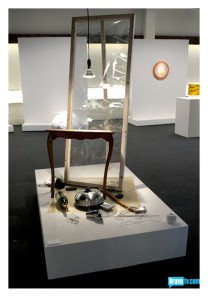 So out went Kathryn – tearfully – which was almost as hard to watch as her video.
But the preferred artworks were equally puzzling. Bayeté's video of spinning like a child fit the challenge criteria. It was fine, if uninspired. And it took the prize.
Michelle's bizarre contraption and concocted story of playground voyeurs? She made a wooden structure complete with simulated gonads requiring a little pull to result in an erection. The judges were amused. (Jerry even, um… tried his hand.)
Hmm.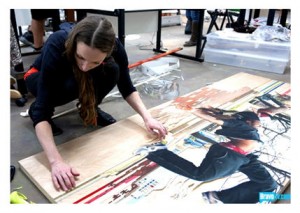 Amusing if you're 11. Artwork? More like summer camp projects for middle schoolers.
Worthy mentions?
Leon's installation of a smashed window, old table, and swinging lamp offered an interesting narrative – the possibility of a crime scene ("Hit") – violent movement just before we arrive, and the dangling light bulb, offering the aftershocks we're left to imagine.
Jazz-Minh's large-scale photo-montage in which she and one of the Parkour tumblers coordinated back flips was fitting for the challenge, and pleasing to view.
Overall, I was delighted to see the judges charmed by carnival games (The Sucklord) and a can-you-spell-TRITE teeter-totter (Dusty). Jeanne made an appearance, and she and China showed off some fine footwear, so judging wasn't entirely a loss.
But might we see some artwork soon?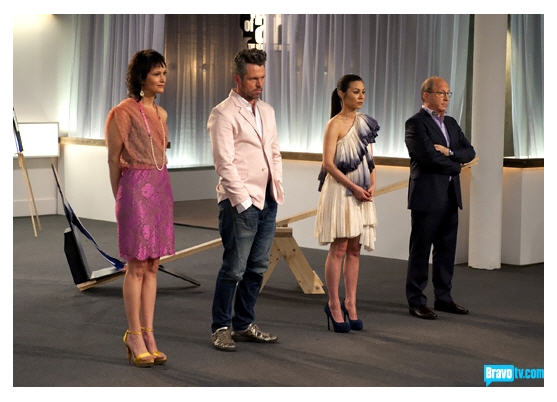 Images courtesy BravoTV.com


© D. A. Wolf
Big Little Wolf's Daily Plate of Crazy