We all have anxieties, regrets, fears – and often we blame ourselves for events we may not cause, or events in which we share responsibility, but are too quick to own it in entirety.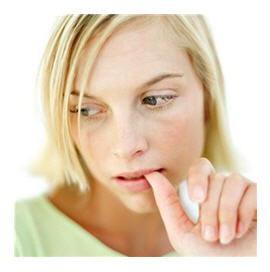 We take comfort in telling ourselves that if we acted differently, things might have turned out differently. It's difficult to accept that in some situations, nothing we say or don't say, do or don't do – can change the outcome.
At times, taking responsibility for a bad situation is a way of feeling in control. But how often do we fool ourselves even in that, and stop there, afraid to dig deeper?
What if we try to identify the underlying reasons that yet another relationship has ended, that we haven't lost that 20 pounds, that we haven't written the Great American Novel or succeeded at any entrepreneurial business venture? What if we attempted to seek – and then speak – the origins of why we're stymied or stuck?
Do you know what's really holding you back? Are you strong enough to go there, to face it, to take necessary steps to change what you can, to reset goals and attitudes if what you find demands it?
Anxiety in Troubled Times
Anxious?
How could we not be anxious in these troubled times? The unforeseen can happen to any of us and it is all too frequently out of our hands. In this economy, millions have lost jobs, homes, and access to health care – through no fault of their own.
But there are other sources of anxiety that may make recovery more difficult. The wounds left by shaky childhoods, bruised self-esteem, long-entrenched doubt.
I know my demons:
Critical voices are a long-term presence in my inner dialog. They are unkind and even cruel. They leave me alone for extended periods of time. And then they reappear, they shut me down, they fight me.
Unhealthy habits return in the toughest times, but I recognize their approach and their modus operandi, and I've learned tricks of my own to send them packing.
Fear, Fear, Fear
Some of us suffer from fear of success; the reasons vary.
Some of us suffer from fear of failure; likewise, the result of a personal journey.
Most of us fear being foolish, unloved, in pain, abandoned; each fear is exacerbated when we hear of others who are betrayed by family, left by spouses, divorced unilaterally, laid off without notice, hopeless – despite years of working and paying their bills. Powerless – at least temporarily – from being on the receiving end of any of these events.
We act as though hardship is contagious; we back off, in a sort of self-protective denial.
We think this is the better way, when in fact we ought to face our own fears.
Say Hello to Your Monsters
A wise man wrote recently of Zombies and fear, of confronting his fear, of disarming it in the act of greeting it.
It takes courage to say hello to your monsters. To do so, over and over again. To be willing to hear what they have to say, and to deal with the dialog that will likely result.
I may know my demons and their weaponry, but that doesn't mean that I can defeat them by acknowledging and then looking away. I sense that I must speak to them. I sense that I must then listen.
They may visit daily, or monthly, or whenever they are triggered to emerge at their strongest which seems to be when I am at my weakest – situationally or emotionally vulnerable – worried over money, over a child; feeling isolated, frustrated, exhausted.
But I'm fortunate in knowing who and what my demons are, even if I have yet to steel myself to engage them more actively, to set the stage for peace talks, and aim for a workable truce with them rather than finding myself in perpetual battle.
Awareness Won't Cure All, But It Sure Can't Hurt
I believe we carry the tenderness of our upbringing and the joys of our life experience into everything we do, and everything we are. But equally, we bear the burdens of our hurts and bewilderment that those we love have harmed us.
I'm not certain we fully exploit the former. I'm not certain we ever banish the latter.
Yet I am convinced – for me – that naming my demons offers a better chance at reducing them to manageable size, at engaging them in necessary negotiation, at diminishing the power I allow them to wield, and then getting on with the business of what must be done – and what I want to become.
You May Also Enjoy