It's not that I expect all of us to play nice all of the time. But men and women really can get along if they try. And married people? Isn't that the idea?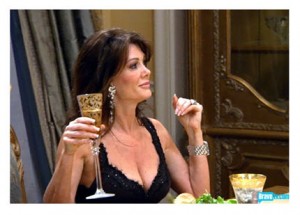 I was watching the Real Housewives of Beverly Hills premiere, and I'll take Lisa Vanderpump's approach to marital maneuvering over the constancy of bickering between Adrienne and Paul.
Sniping seems to be their particular love language, and while it isn't mean per se, it often strays far afield of affectionate angling for the upper hand.
In fact, there is little warm or cooperative about most of the footage between these two. It's low-grade noise, unsettling and unpleasant.
Playful?
Perhaps what sits on the virtual cutting room floor.
"As long as the end of the night ends up peaceful, that's what counts," says Paul in a narrative snippet.
Teasing, Shmeasing
Contemplating the routine repartee and occasional sarcasm that form part of my usual communication with my sons, I'm pondering, I'm pondering, I'm pondering.
Nope.
It's not contentious. It's good-natured wordplay. It's teasing.
As for my parents – teasing, yes; bickering, no.
My ex? Still no pot shots.
And other relationships? I can't recall a single one that ventured into this prickly pastime. To me, there is teasing (which I enjoy), there is nitpicking (which approaches the line), and there is bickering (which I abhor).
Kids? When they're little and fighting?
Absolutely. They bicker and it's horrid. Perhaps that's what makes adult bickering so toxic and trying. It reminds us of children who fuss and compete over everything, and who earn themselves plenty of time-outs.
A Fine Line in Family Fighting

My grandparents bickered. They were married more than fifty years, and the familial friction between them was neither constant nor mean, and acted as an accompaniment to other sorts of relational music. And that included knowing looks and affectionate gestures, a twinkle in the eye and a mischievous smile, and compromise over verbal sparring.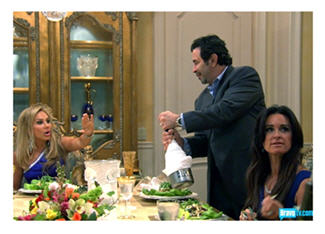 As for the eccentric (and exaggerated?) pairings on these so-called reality TV shows, sure, we're looking for a measure of entertainment, a stirring of drama, and no doubt we get glimpses into their real reality – including baiting in mating.
And we also hear the wives who say "we don't fight because my husband always gives in."
I'm not sure I love that handling when it comes to problem-solving, and nor am I convinced I believe it. In fact, I prefer this exchange:
"Do you two ever bicker?" Paul asks Lisa and Ken, married some 29 years.
Lisa replies: "What is there to fight about, really?"
I must say, her perspective bears consideration. How many molehills do we make into mountains, rather than focusing on the good and appreciating what we share?
Your Communication Style?
Banter? Tease? I admit that I love it.
Baiting? Bickering? Not my style.
Do you fight, and if so, do you play fair?
Do you sometimes pick a fight, without knowing why?
When you disagree, does your partner give in or do you?
Do you tease? Do you banter?
Do you bicker? Do your kids bicker?
Images courtesy BravoTV.com


Big Little Wolf's Daily Plate of Crazy