"What people say matters terribly," her friend insists, trying to get the 40-something widow played by Jane Wyman to give up her love affair with a hunky younger man, none other than Rock Hudson. She is a well-heeled woman with her place in society. He is the son of a gardener.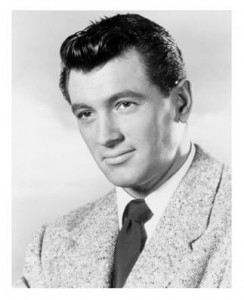 Of course, we aren't sure which is worse – his age or lack of social status.
I stumbled over this 1955 soaper on TV not long ago. I hadn't seen it in years, and I couldn't resist watching as the mores and roles of another generation unfolded in front of my eyes.
Mores and roles through the Hollywood lens that is.
Still, I wonder how much has changed in 50 years. Or how little.
Don't we still believe that men can be fun-loving bachelors for a good long time, but every girl should be married – and a mother? And to some extent, once past that role (and aging), women lose "market value?"
As for this film, when Jane Wyman's character is courted by Rock Hudson, everyone questions his motives (no doubt, he wants her money). And then there are her motives – she must be interested in his body, and her peers make no bones about expressing that opinion.
There's petulance from her two college-aged children who are on the verge of pursuing their own lives (one is engaged, and the other, about to take a job overseas), yet they insist that their mother's actions are inappropriate and surely she can't really be in love with this younger man.
Friends and acquaintances are equally vocal in their disapproval. At a cocktail party to make introductions, as word gets around that Rock works outdoors, one catty socialite coos: "Oh, I imagine he's good with his hands inside, too."  
A widow?
She's supposed to live in the shadow of who she once was, and if she remarries, the "old circle" needs to approve.
Love? Passion?
That's for the very young. Surely not for a woman of 40!
Jane gives up Rock, and is expected to pass her remaining years quietly in front of the shiny new console television. Naturally, several twists and turns ensue that bring the couple back together, and yes – there is a happy ending. They embrace each other and the life they will construct in spite of convention, and in spite of the fact that "what people say matters."
While I won't say that nothing has changed since this film was made, I'm nonetheless surprised at how little.
Older woman, younger man?
Oh, it may not be as taboo as it once was, but the term "Cougar" – disparaging, at least in my mind – certainly indicates that we don't consider it the usual, and we do chalk it up to the woman being hungry for young flesh – and in a position of financial power to acquire it. Because why else could a man be interested in an older woman, right?
The fact that the male lead espouses a more kindly (anti-materialistic) philosophy is also not well received by the affluent group. The same old story of the haves and the have-nots? Of social snobbery? Material versus spiritual abundance?
So how much has changed? Really?
Don't we still raise an eyebrow when we see a 10-year span or more and it is the woman who is older?
Don't we still think nothing of the same scenario in reverse – older man, younger woman? Think Alec Baldwin (53) and his new lady love Hilaria Thomas (27) – do we even blink an eye?
Don't we expect the man to be the provider, and don't we doubt the sincerity of affections when the woman has money and the man doesn't?
Do you care what people think about your choices in partners?
Do you bend to convention, even in the face of a delicious alternative?

Big Little Wolf's Daily Plate of Crazy