By now, whether you're up on pop culture or not, a fan of Reality TV or not – you've heard the sad news of 47-year old businessman Russell Armstrong, whose suicide is being discussed across the Internet. He was the estranged husband of "Real Housewife" of Beverly Hills, Taylor Armstrong, 40, and speculation has been hot and heavy as to what might have pushed him to such a desperate act.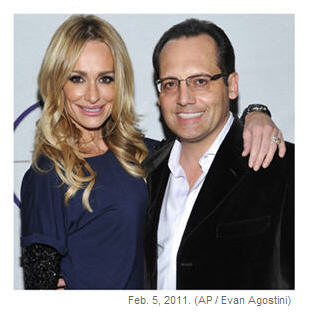 The couple was in the process of divorcing, and in severe financial difficulty.
All it took was a few minutes on Twitter to see and hear the flow of supposition and, frankly, anger. There were those who are against reality TV and using this as an opportunity to bash it. Some were reacting to the accusations of physical and verbal abuse in his wife's recent divorce filing. Still others jumped on the divorce bandwagon from another perspective, blaming Taylor's filing for pushing him over the edge.
How can anyone who doesn't know the couple make assumptions? And even those who know them – what do they really know of their private life?
In this case, we know only what we've seen on television and only what the gossip columns care to report. Would you like anyone to sum up and judge your life on so little?
(Far From) Reality
Is Reality TV "harmless" fun? Is it influencing our perceptions and values in insidious ways? Does anyone honestly believe that these edited episodes of so-called housewives represent their reality?
I don't, which doesn't mean that I don't enjoy certain of the franchises. I watch Orange County off and on, and New York, faithfully. New Jersey? No thank you. Atlanta? Not so much.
As for Beverly Hills, I watched from time to time, though it was painful to see this couple in an obviously strained relationship, and of course – there's what went down with Camille and Kelsey. Personally, I enjoy the fashions, I have difficulty looking at stretched and Botoxed faces, and most of the drama is lost on me. It's all very high school.
Over the top? Yes.
Reality? Seriously? Of course not.
Private Moments
Why anyone would put their family on display is a mystery to me. Ah yes – narcissism, money, self-promotion.
Would you do it?
Pas moi – thanks very much.
Whatever you think of Reality TV, who in their right mind thinks they know what goes on behind closed doors in a marriage? Why would a stranger or acquaintance or a neighbor believe they possess any insight into an intimate relationship?
Ever been married? Didn't you put on your happy face for the kids and neighbors, the extended family, the business acquaintances – and divulge an inkling of your marital truth only to the closest confidante?
When divorce came knocking on my door, all were stunned. They had no idea of the inner dynamics in my household or marital relationship. And their suppositions (and free advice) were, to say the least, off base and distressing. A situation like this? Who are we to judge?
Watch What Happens
Any chance we can cool our jets on the speculation, and show some decorum?
Can we respect those who are grieving, including two children?
Can we also keep in mind that Armstrong left his considerable financial troubles to his (still legal) wife, Taylor, to deal with?
Surely Bravo TV is not going to be so tacky as to air episodes showing us Taylor's now dead husband?
As for the details, naturally we'll be hearing more and consuming it. It's a human interest story – or a car wreck we can't turn away from. Still, I repeat: no one knows what goes on behind closed doors.
Stow the hate. Can the judgment. Find some compassion.



© D A Wolf

Big Little Wolf's Daily Plate of Crazy