The title was irresistible – This Just In!!! Read All About It!!!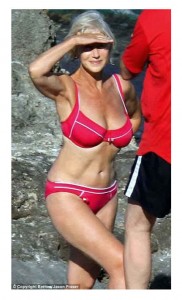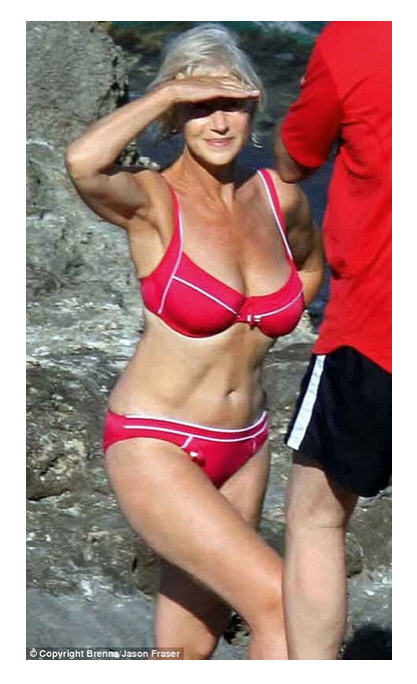 That was yesterday, on one of my favorite sites, written by the incredible Tish Jett, A Femme d'Un Certain Age.
And the hot item?
The fact that award-winning Helen Mirren, who just turned 66, had been graced with the title of Best Body, bestowed by the L.A. Fitness gym, in a vote of some 2,000 people.
And where is the news in that, you say?
Well if you're a woman and you constantly criticize your own figure, if you're a mother and your body has never quite been the same after childbirth, if you're 40-something or 50-something or 60-something or any-something and feel as though you can't compete with what you see in the media – it's a breath of fresh air.
This is also a woman with lines on her forehead and between her brows, with crinkles around her eyes which reflect a broad smile and full range of expressions. A sign of life, no?
I pronounce this a touch of sanity in a crazy world, an oasis, a minuscule and mighty moment of respect – albeit odd in its way – but respect nonetheless for a woman who does it her way, and remains fiercely female and feminine. As far as I'm concerned at least (and I suspect she has fans who would agree), she stands as a cogent reminder that age needn't rob us of sexual confidence, of reverence for bodies that serve us, that bear life, that nourish our children, that cradle our spirits.
Definitions of Beauty
What if we shed our shame and instead wrapped ourselves in the beauty of our womanly bodies? What if we stopped disparaging and damning, criticizing and comparing?
What if we worried about fitness over appearance, and health over numbers on a scale? What can Helen Mirren teach us, what can this vote for her voluptuous and beautiful body teach us, what can women who are still grabbing on to life and going for it teach us – about esteem, about curiosity, about our own value?
Ironically, while I don't look as good as Helen (and I'm younger), I don't compare myself to her. And I'm thrilled to see her example, and hope that more of us will follow suit.
Recently I was watching some films from the 1930s and 1940s. By today's standards, the latter day lovelies would be considered fat – pure and simple. I looked at a recent picture of Kate Middleton – and elegant though she is, might we not agree she looks like a stick? Hey – if she's happy and healthy as she is, her preference for weight and style is entirely up to her, obviously. And perhaps new hubby, the Prince. But it's rail thin as the goal that concerns me, and the fact that what is considered fashionable (or sexy) is fickle, cultural, and increasingly a commercial matter rather than personal.
So why do we listen? Why do we take – or inflict – such ridiculous abuse on our bodies and our self-esteem?
Aging in a Competitive Culture
Also yesterday, another writer I admire, Barbara Hannah Grufferman, offered up a picture on Facebook of herself and her cousin in swimwear. In fact, the same photograph was shown on Life Goes Strong – Barbara at 54, stunning in a tankini, and her cousin (also named Barbara), quite the dish at 62, sporting a bikini. They both look fantastic, but more importantly, they defy traditional convention in terms of fashion dos and don'ts – dress your age, act your age, look a certain way to be what the world believes you are – demure when young, vibrant in your so-called prime, and invisible (or disappearing) when you hit 45 and thereafter.
More important still, Barbara Grufferman reminds us regularly that feeling well and staying involved keeps us vital at any age.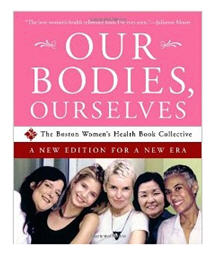 So how do women feel about saying "screw convention" and strutting their stuff – in whatever way feels comfortable, or possibly with a diverting dash of audacity? Are women less likely to feel good about themselves – their bodies and their lives – than men at every age? Men, who are considered dignified as they gray and gain weight, able to consort with women 20 or 30 years their junior without raising an eyebrow?
But what are we to learn of our bodies and ourselves – some 40 years after a book of that name appeared in 1970 as a revelation? Our Bodies Ourselves provided a readable (and illustrated) source on how the female body works – everything our parents (and physicians) were too embarrassed to tell us.
Our Bodies, Our Spirit, Our Selves
Might we learn from Helen and Tish and Barbara and others that 40 is glorious and 50 is glorious and 60 is glorious and so on? Sure, sure – gravity takes its toll as does accident and illness and certainly too much sun, as do sorrow and disappointment, dwindling financial resources, and the most grievous of all – a slow winnowing of the spirit. Perhaps this latter is a consequence of depression, and that, the result of the very invisibility which I mention – women no longer deemed attractive in this culture, women no longer considered sexually viable, women whose roles as mothers are winding down or perhaps already shelved for the comforts of grandmotherly visits.
Beautiful women. Smart women. Productive women. Tender women. Sexual women.
A woman you know.
You.
So what might we learn from the expressiveness and fitness of Helen's face and form? From her willingness to bare herself and ignore anyone who doesn't like it? How might we stand up and say I'm here, I'm worthy, I'm not the same, but I won't disappear? Isn't it time we started to appreciate our own beauty, even as it changes through the years, telling tales from our lives – and as they are?
Body and spirit, intact and vital?

Image, copyright Brenna Jason Fraser

© D A Wolf

Big Little Wolf's Daily Plate of Crazy