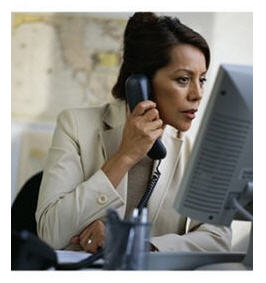 What's your position?
Women on top? A little variation and taking turns, or better yet – anything goes as long as the fit feels appropriate?
Ah, but it isn't so straightforward if you find yourself stuck in the middle – of middle management, that is. Especially if you're trying to wriggle your way out, then onward and upward.
Or is "stuck" in middle management exactly where you choose to be?
WSJ Conference on Women in the Economy
A recent Wall Street Journal report on women in management offers insights into the reasons that more women don't make it to the top. They may surprise you. Then again, they may not.
According to Vikram Malhotra, chairman of the Americas at McKinsey & Co., speaking last week at the Wall Street Journal's Women in the Economy Conference:
Our corporate talent pipeline is leaky, and it is blocked. Qualified women enter the work force in sufficient numbers, but they begin to drop off at the very first sorting of talent, when they're eligible for their very first management positions. And it only gets worse after that.
And if you're not part of the corporate world – does this affect you? Does it concern you?
If you're a man and your wife is dissatisfied in her work, I daresay the answer is yes. If you're dependent upon the corporate woman as breadwinner in your household, again – yes. If you'd like to know that there is female representation at significant decision-making levels in the companies providing you goods and services, again – yes. If you believe that equal performance ought to mean equal opportunity, wouldn't the answer be yes?
And if you're a parent, don't you want your daughters to have real choices? Options based on qualifications and expertise?
Job Structures, Cultural Strictures
Some of the reasons for the continued disappointing numbers, according to Mr. Malhotra, include structural barriers (insufficient role models, fewer networks, lack of sponsorship), lifestyle issues (for example, travel requirements), and age-old prejudices that women simply won't fit in particular positions.
Again, with the traditional (and outmoded) views that a woman's place is… well, not on top!
While the WSJ article goes on to include Mr. Malhotra's comments regarding how to address these issues, yet another article in the series – which I recommend – caught my eye.
The Perpetual Work-Life Juggle
According to Sue Shellenbarger's article, "Why Women Rarely Leave Middle Management," the odds are stacked against working mothers moving into senior positions. It's not rocket science; no kids, fewer impediments to climbing the ladder.
Among the points cited by Shellenbarger (paraphrased):
83% of mid-level women have a strong desire to move up to a higher level in their companies, with their chance of doing so only 60% that of men
Mothers and fathers both refuse promotions that impact work-life balance; mothers seem particularly concerned about limiting travel
Without role models, women continue to have difficulty visualizing themselves in senior positions, while senior managers worry that women will leave to have families, and business unit performance will suffer
Lower pay, according to Nancy Carter, senior vice president, research, for Catalyst, according to her group's study of 5,000 employees worldwide, speaking of women in first jobs and an increasing compensation gap that continues over time.
Another factor? The cost of child care, which may trump the satisfaction of a job, unless you're willing (and able) to take the financial hit. (An issue for how many millions of single or solo parents?)
Has Anything Really Changed?

Can we agree that the American business model has a long way to go in accommodating the fact that women bear the children, and most frequently – care for them? Without policies that are family friendly, pay scales that cover child care costs – or both – women remain "stuck" – unable to pass GO, unable to collect $200.
Incidentally, I was one of those enthusiastic women in the 80s, MBA in hand, believing that I could have it all and do it all. I loved the excitement of the workplace, the application of my knowledge and expertise, as well as travel to see customers overseas. But I was single at the time, and unhampered by many of the structural barriers that seem still to be in place, 25 years later.
The Parenting Profession
As my full-time parenting role winds down, I can attest to the lack of options that I experienced when I had my children in the 1990s. Well established in my career, it never occurred to me that parenting issues would intervene constantly – never impacting my spouse, mind you – but me. Does the term "mommy tracked" come to mind, even if it's (ultimately) an intentional choice to remain in lower level mid management positions, so you can run to the pediatrician, to the Emergency Room, to the parent-teacher conference – and still hang on to a job?
As for childcare, there were options for babies and preschoolers, and they weren't cheap. But as parental responsibilities increased, they were offset by a decrease in child care alternatives. By the time my sons hit the end of their elementary years (as my marriage was ending), there were no employer facilities, no afterschool programs, and my income as a single mother didn't allow for expensive sitter services.
At 9, 10, or 11 years old, my kids were definitely too young to fend for themselves in getting home, and shuttling to activities was out of the question. Thus the choice for many of us – often wrenching – involving family dynamics, a desire to parent, skills and experience that get shelved or downgraded, and the harsh reality of economics – namely, the cost and availability of child care versus the importance of one's career. And might I include the necessity of the income that comes with it?
Buying into the Superwoman Myth
My path?
For a considerable time, I was able to work from a home office – carrying two full-time roles simultaneously, combining corporate work, writing work, and parenting around the schedule of my growing children. The Superwoman Myth lives!
But with my remote location came invisibility, de facto exclusion from critical networks, and narrowed opportunities all round.
And then there's the fatigue, not to mention the frustration of generally lower level jobs (and pay), and the constant pull in too many directions that eventually affects performance in all.
Would you quit your job? Which one?
Perhaps the numbers of women in middle management have swelled since I officially left the corporate world a decade ago, and thus the potential for moving into senior positions. But reading between the lines, the issues remain fundamentally entrenched.  So where does that leave us – as women, or as parents worried about the options for our daughters? Do we quit our (income-generating) jobs, cease parenting, or continue to dwell in the never-never land of underemployment and low-earning limbo?
Did you choose a career (or alter one) to accommodate family?
Do you hold out hope that employment structures will become more family-friendly for both sexes?
Do you think we'll ever get "women on top" – and will it be worth the sacrifice – personally, and for our children?

Big Little Wolf's Daily Plate of Crazy