Do you covet what the "other guy" has? Is the grass always greener? Literally?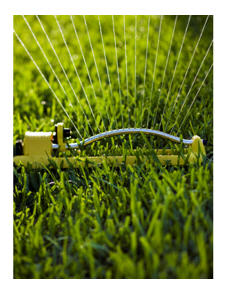 I ran across this article in the New York Times, which elicited a chuckle at first, then interest, and finally, a flicker of concern. A chuckle because lawns in Phoenix, Arizona are being sprinkled with green paint rather than water. Interest, because necessity is the mother of invention, as the saying goes. For some, the desire to possess the appearance of lush grass is greater than (what I consider) common sense – acceptance of another sort of beauty.
And the concern?
I'm all for going green, but I don't think this is quite what the Green Movement is about. In fact, I suspect it's going in the opposite direction.
When did we become a culture of so much artifice? Has it always been the case, but we tend not to notice when we're younger?
Of course we clear lands to grow food and build homes. We are driven to explore. Natural landscapes are sacrificed to industry. Histories are filled with peoples who seek to tame nature. Yet something in this scenario seems stereotypically American, preoccupied with fighting nature in so many respects: natural beauty, natural landscapes, the natural effects of aging.
Caring about the "wrong" things
Who am I to judge what is right or wrong for others to care about? Who am I to determine what is enhancement versus obsession?
It's not my place.
As for the neighborhoods of Phoenix, apparently painting isn't the only option as the article points out, where homeowner's associations levy considerable fines for improperly maintained yards – either green, or desert-landscaped. Plastic turf is the choice of some, though costly, while others do their utmost by rotating types of grass and providing constant irrigation.
The implications on water use are evident (natural landscaping or, for that matter, artificial turf are more conservationally friendly), but "grass people" and "desert people" continue to square off:
Marty Campisi, who runs Desert Oasis Landscape Design and Concepts in Phoenix, has desert in his backyard and promotes the natural approach, reminding customers that many municipalities offer financial incentives to those who convert from grass. "The ones who want lawns are mostly the ones with kids," he said. "I tell them that children can play in a desert landscape, as long as you stay away from anything with thorns."
While I can understand that a lush lawn is potentially pleasurable for children, city dwellers have no such back yard for their kids, and they understand the trade-offs of an urban environment. What of the trade-offs in our arid states? Can't we see the positives of the beauty that exists?
Do you fight nature?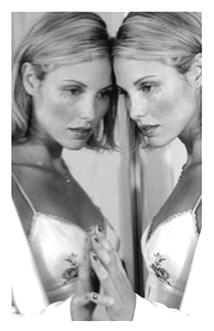 I wonder why we battle against what is natural with such a vengeance; insisting on certain things – for the human body, for our surrounding terrain, even our temperaments.
Just because we "can" – should we?
Perhaps it's voluminous breasts for the 30-year old who wants to feel more attractive, babies for the 50-year old who is desperate to conceive, the ability to rock on for hours, for the 65-year old, thanks to a little blue pill. Maybe it's insisting that everyone "be happy" or at least, not outwardly sad.
Maybe it's insistence on the color green for our yards. But does any of this actually make sense? How much responds to a true desire or need on the part of the individuals involved? How much is a matter of that elusive set of "shoulds" that originate in envy, in media, in evolving social expectations that consume us?
We have grown weird ideas with our strange pseudo-grasses. I laud the ingenuity of those who come up with solutions to their challenges, and I wonder why we don't put our inventiveness into caring for the environment as it is, for our bodies as they are, for our communities, as they could be.
Naturally.
Do you fight your natural moods and temperament?
Do you struggle with natural body type or cultural expectations of beauty?
Do you fight aging in ways that are healthy, or artificial?

Big Little Wolf's Daily Plate of Crazy