It stopped me cold, and I couldn't change the channel. It was Barbara Stanwyck, in 1937's Stella Dallas, a film I hadn't seen in years.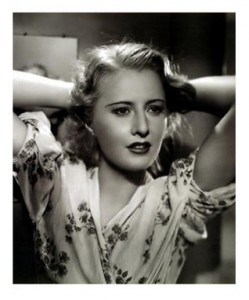 It's the story of a working class mother who manages to marry into money, leaves her husband, then raises her daughter under difficult (and questionable) circumstances. Years later, when the girl is a teen, she hands her over to the father as he remarries, so she can know the advantages of a more privileged upbringing.
The message is one of sacrifice – in a context that seems odd today. And in the final scene, the grown daughter is marrying into a well-heeled family, as a teary Barbara Stanwyck stands outside, looking in through the window. Tears roll down her face as she watches, then turns and walks away – head held high, a bounce in her step, and a smile on her face – knowing she did the right thing for her daughter.
I admit it. I'm a sucker for a good tear-jerker.
This is the sort of film I watched growing up and continued to enjoy into adulthood, with characters that stuck and value messages intended to make their impression.
Film memories
When I contemplate the morality tales that were part of my youth, Frank Capra's idealized vision of American values comes to mind, with his films Meet John Doe and of course, It's a Wonderful Life. There was also Gregory Peck as Atticus Finch in To Kill a Mockingbird, not to mention Peck's performance in Elia Kazan's Gentleman's Agreement, dealing with Anti-Semitism.
Each of these films offered life lessons which I took in, and never forgot.
Certainly, I watched plenty of other movies – all those Elizabeth Taylor "greats" – plenty of Rock Hudson and Doris Day, my share of classic Hitchcock, and grittier fare as well, like 1969's Easy Rider.
What films will our kids remember?
Thinking back to the films my children have seen – those I took them to at the theater, or that they watched on television – I can't imagine what they might consider memorable. But I wonder if their recollections will have to do with special effects, rather than portraits of unforgettable characters, or stories that intrigue or inspire.
Perhaps I'll ask them.
Were movies integral to your upbringing and ideas of how to live in the world?
Do you find examples in movies today to use as models for behavior?
What old films still touch you, as they did when you were younger?
What films do you think your children will remember?

Big Little Wolf's Daily Plate of Crazy