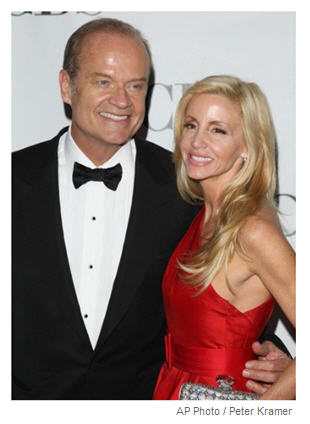 Yes, I watch Bravo. No, I haven't joined a 12-step program if there is one. Yes, I've admitted my problem, but I'm not planning on rectifying it anytime soon. And I confess: I am a viewer of some of the Housewives, including a backward glance at the perpetually petulant crew from Beverly Hills.
Every time Camille Grammer appears on screen, I find myself shaking my head – involuntarily. Disapprovingly.
Obviously, I don't know the woman, and reality TV is orchestrated for our entertainment, seemingly shaping the participants into semi-caricatures at times. But I don't like catty and I don't like snotty. And remarks made by Camille – consistently – come across as both.
And then there's Kelsey Grammer. Hot to honeymoon with Wife #4.
Our fascination with celebrity love lives (and subsequent splits) is stirred more than usual, and I'm trying to figure out why that is. Maybe it's because we used to like Kelsey, and now we don't. Maybe because there is collective shaking of heads across the country, viewing Camille's cooing and conniving. Maybe it's because now we don't like either of these two – and that's a conundrum.
Rooting for the good guy
It's human nature to take sides when we see a fight, but we don't care for her (as presented on Real Housewives), and his behavior? Tacky, tacky, tacky.
An affair? It happens every day. Leave your spouse for another man / woman? That, too.
But the way it's played out, and the sprint to the alter using divorce bifurcation to do so? Nasty. And I can't help but wonder why. 'Tis the season? Upcoming tax season?
Hollywood splits are a dime a dozen, but there's something about this one that turns my stomach. Partly it's the sums involved, and the appalling sense of entitlement. After all, Camille may need to downsize from eight houses to four, from four nannies to three, from being half of an $80+ million celebrity couple to a status of (reportedly) $50 million ex, just one more in a stream of exes left in the wake of the talented Mr. Grammer.
As for him, why the rush to remarry? Why this "bifurcation" business?
Bifurcation, remarriage

California is one of a few states that allows for bifurcation in divorce proceedings, basically, the separation of marriage termination from resolution of any number of other issues including determination of communal assets and other financial issues affecting taxes.* In addition, bifurcation may defer issues of child custody, child support, and alimony.**
Generally, one of the two involved wants to remarry – and address all the tricky stuff afterward. And who do you think that benefits?
The one with the bucks, naturally. In this case, that's the one who wants out and walking down the aisle with Mrs. #4. And once that's accomplished, where's the incentive to quickly dispense with the other issues involved? How long will they drag on, and how many millions will be drained pointlessly in the process?
The Court of Public Opinion
And this is where I repeat: tacky, tacky, tacky. Of course, so is getting engaged before you're divorced. (A recurring theme when it comes to the Housewives franchise?)
When a marriage ends – whether it plays out in public or not – ultimately, the reasons remain private business. No one truly knows what goes on behind closed doors. But what about the children?
Of course, we haven't seen much of the two Grammer kids on Real Housewives. That may be an intentional attempt to keep them out of the limelight, which I find appropriate. But divorce is hard on children under any circumstances. How much more difficult is it when your father's picture is splashed across the Internet with his girlfriend-fiancée, before he's even disposed of your mother?
Divorce: Good for business, bad for business
When it came to Mel Gibson's rabid ranting, I vowed not to watch another Mel Gibson anything – and I haven't. Certainly, this little domestic drama playing out in the media seems less appalling, but no less distasteful to me – precisely because with that sort of money and privilege, you'd think they might manage some manners. Of course, to quote the Countess, "money can't buy you class."
Then again, perhaps we should consider the Grammers' contribution to revenues in certain sectors. After all, they sell newspapers and increase page views. Still, I won't be watching any reruns of Frasier anytime soon.


*Source
** Source

Big Little Wolf's Daily Plate of Crazy