48 hours. Well, technically, it's been less. But in the past two days, we've had some of my true drug of choice: sleep.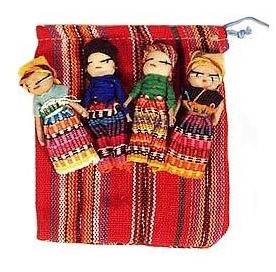 My son has scored some serious snooze time, and I've racked up more zzzzs than usual, though I'm staring at a pretty depleted well after our marathon of days and nights this past week. It was down-to-the-wire study and work as the school semester came to an end for my kid, and a deliverable was completed for me.
I'd say it was cause to celebrate! But I can I do my partying from bed?
(Let me clarify – a little lounging, a little reading, a little dozing…)
Comparatively speaking – I'm thinking it's a great break, and an appropriate one, since we're not quite out of the woods yet. Now where are those worry dolls…
Unfortunately, a mini-mountain of must-do's remains for the first of the year, dammit. College application supplements and individual art portfolios. Aggravation? Meet Annoyance. And happy holidays!
Worrying, and not
As for those portfolios – 10 of them – the specifications vary. Naturellement. Hello Kinko's. Merry Christmas, Office Depot. Nice to see you again, Local Art Supply Store and US Postal Mail.
Worries? Moi? The college application fees? Additional paint and canvas? Creating CDs, reproducing artwork, compiling presentation binders and sending them off? Piece of cake.
Still, the worst of the worry is over – or seems like it. We managed Heartbreak Hill – several times – and now we get a breather. 48 hours to be exact. And in those 48 hours my son has somehow excavated the energy to party party party, which left me to worry worry worry – oh, just the usual. Kids, cars, cutting loose. Even the most responsible of adolescents has trouble processing their own limits. (But shhhh, don't tell my son I said so.)
All's well that ends well?
Considering the week ahead, I wish we could set aside worries of any sort and focus on the holidays, not to mention the fact that my older son will be returning soon. But we still have those tasks to get through. Sleeping son seems unconcerned about the results of his finals (is that a good sign?), so I'm trying to follow his lead, and chillax.
Meanwhile, I'm tap-tap-tapping out an old-time episodic close:
And will the stalwart student succeed in pulling out good grades in the clutch?
Will the muddled mother panic over portfolios, or monitor mindfully instead?
Ah, the scintillating stuff of daily life. NOT. God may be in the details, but so is parenting. And no complaints – after all, we've had 48 hours to gear up for the last leg of this particular race.

Big Little Wolf's Daily Plate of Crazy