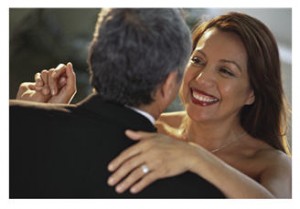 It works every time. Ten tips for this. Ten things you don't know. It gets your attention, doesn't it?
Yesterday I came across 10 Things a Man Should Know About Marriage.
The fact that this series of snippets was directed at men? That made it even more irresistible – advice offered to guide the guys through their wedding worries. And it's all there. Everything from how to propose to a woman (gaze into her eyes so you get the "gasp"), to acceptable (if not preferred?) snoozing through the planning details. Then there is the blur of that special day itself.
Want more? The keys to a happy marriage according to these tongue-and-cheek tips from Esquire?
Then follow the link above and enjoy it! It's very entertaining Friday fare, and certainly hearkens back to earlier generations when these marriage tips held true. Come to think of it, they may still hold true as I ponder the men I've known, and even the one I once married.
The formula for a successful marriage
Then again, there's little that is formulaic in life. Our propensity for reducing experience to a single set of shimmering should-dos is very American, don't you think? And appealing. Who can stop from peeking at 10 tips on… whatever?
As for marriage – like love and sex, like parenting, like anything to do with relationships – I doubt that a single formula will guarantee you success.
Still, I'll toss my hat (or veil) into the mix, and counter Esquire's wry and sly slides with a few thoughts of my own.
So tell me, guys and gals – is there wisdom to be had, or is it all a crap shoot?
10 Things I would suggest to men before they marry
Those tips you'll read? Those that suggest a big ring, the splashy proposal, leaving all the details of wedding planning to her? You're marrying an individual, not a Barbie doll, right? You'd better know your woman well, and pick and choose where she wants you involved.
I will agree with the recommendation that when it comes to the 7-year itch, don't scratch! But I have a few tidy tidbits of my own, as long as we're reducing life's major events to a short list:
Get damn good at pretending to listen. Better yet, actually learn how. That's Listen, not Fix.
The big ring? Sure, fine, if you can afford it and she really wants it. But better the big heart. No kidding.
The four C's (color, cut, clarity, carats) aren't the only way to make a woman swoon. For the long run, go for the fifth C. Compromise. Especially critical when you hit the next: Children.
Date night. Or afternoon. Or morning. Or lunch hour! Don't forget to keep going out. With each other.
You don't have to give up your buddies or your own interests. Neither should she. As long as they don't send you to separate continents for 3 months at a time.
Don't look at other women when your wife is there. Especially if she's pregnant. Enough said.
Tell her she looks hot. Pick your moments. Believable moments. Not when she's been up all night on a project, with the newborn, or just turned 50 and feels like a hag.

Learn to write. A love letter. A list. Three sentences. Why you love her. Then remind her from time to time, and yourself. While you're at it – ask her to do the same.
Talk. Women can't read minds any more than men can. If you want something, tell her. Nicely. You just may be (happily) surprised…
That "growing old together" thing? It sounds romantic, but the reality is tough. Years take their toll. So pull out your lists and letters of why you love each other. Add to them. Talk about it. Preferably in bed.
Now do we really think something as important and variable as marriage can be reduced to a set of tips? Is there anything of value in any of this?


Big Little Wolf's Daily Plate of Crazy