Can you imagine a better world?
There was an entire generation that dared to do just that. To imagine a different world. A better one.
I am part of that generation. Our legacy of images and music from the late 1960s and early 1970s stands. It persists even in contemporary consciousness.
It was a troubled time, and a fertile one. A period in history when idealism was not a source of embarrassment. We genuinely believed that we might eventually live without war, without divisiveness.
The words are simple and striking. John Lennon's Imagine:
Imagine all the people… living life in peace.
You may say I'm a dreamer, but I'm not the only one.
I hope some day you join us…
And the world will be as one.
Today is John Lennon's 70th birthday. Imagine if he had lived to see it. Imagine if we weren't driven by despair, by envy, by hatred. Imagine if the differences in religion did not divide us. If we saw their commonalities, and celebrated coexistence.
Artistic legacy
I recall Lennon's legacy in the making, a period of rebellion, of optimism, the conviction that we could build a more compassionate world. For all of today's focus on "presence," the late 1960s and 1970s truly practiced it, for some of us.
All these years later, I still believe in the beauty that human beings can create, and in our capacity to reach out as a single human community. Here. Now. In this life.
Idealistic?
Yes, it is.
But just imagine what that might be like.
Enjoy this music video from 1971, on YouTube.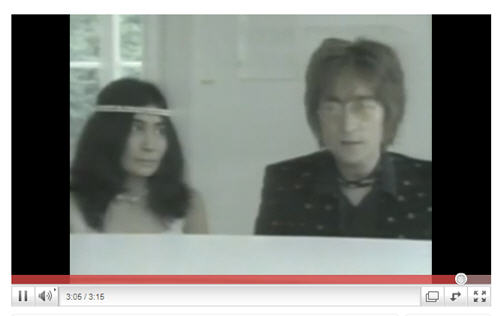 Big Little Wolf's Daily Plate of Crazy