Time keeps on ticking, ticking, ticking…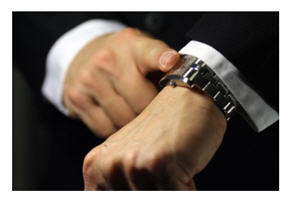 Trying to wake the kid. Rushing to get his lunch made. Hoping the car will start. Scrambling to get things done hours earlier than usual, and "usual" is pretty damn early.
Crossing my fingers that I make it to the dealership. Pleading for no traffic. Counting on that loaner.
Checking my watch, checking the wall clock, checking my checklists, checking my sanity at the door…
There's reading to do, revisions to make, a phone meeting later, more for my son. Will my body hold up? What about brain function?
Sleep deprived America
Where are those statistics? Where is that article describing a woman's lack of sleep as a national health crisis?
An exaggeration? Possibly. Then again, if I got more sleep I could locate the article, wouldn't feel like I'm running on empty, tearing through another period of blurred days and nights and still not getting it all done.
In periods of desert, the expanse seems infinite. In periods of abundance, we can hardly keep up. Parenthood? It's both. Single parenthood? Even more so. The proverbial marathon across years of shifting sands.
Time's a wasting, where's my clone?
Dead car for my son's midterms? Naturally.
Dental dramas? That, too.
And during the week I have no slack – appointments early, appointments late, and resurrecting energy to meet normal commitments is tough enough, much less unanticipated extras.
Can I call in a clone for noontime? Another for evening? A third to help with the cooking, the shopping, the cleaning, the reminding, the driving?
Timing is everything
I look up and it's something else. I look down before I trip and fall.
Don't look up, I tell myself. Don't look down either.
Yes, it's feast or famine. And timing is everything. If only we had some say in serendipity – as the house phone rings, the cell phone buzzes, the alarm jolts my son, emails clog my reader, and I worry if the car battery will actually turn over…
Spring forward, fall back
Our notions of time are constantly shifting, ever distorted, never what we desire: childhood seems boundless when we're in it, tedious approaching adolescence, all too short as we grapple with adulthood. Jobs we loathe force us to clock watch; clock watching becomes a habit that ages us; with age, time speeds up and only then do we fully understand its value. And we languish over missed opportunities, wondering if it's really too late, not wanting to spring forward, and pondering falling back, so we might do it all again – differently.

Big Little Wolf's Daily Plate of Crazy