It is not the day of her passing, though my mother is much on my mind. She is here, as I pad around the house to the ticking of the wall clock that brings me back to mornings in her kitchen.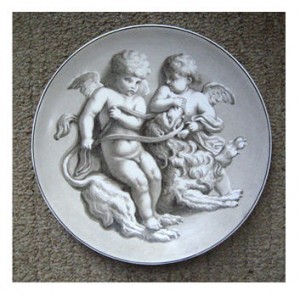 Today, I write from a chair I rarely use. It is most often the handy receptacle for an overflow of laundry which eventually I fold, or a stack of paperwork that I ultimately file away. From this place where I sit, my view seems different, my vision, kinder.
To the right through French doors I can see our worn deck where a tiny heat-burned maple continues its slow, steady regrowth. To the left I can see my stove, the sink, the cluttered countertop, the living room beyond. Through slatted blinds, light is pouring into the house.
From where I sit, I see the cherry music stand lovingly crafted by my mother's father some fifty years ago. It is placed next to the sofa which makes no sense, but it is – to me – the presence of my grandfather, his love of carpentry, his joy in making music, his boisterous appetite for life.
From where I sit, I see a porcelain plate that was my grandmother's. It is French, an antique, and a bit ornate. On it, two cherubs wrestle with a lion. It is – to me – the presence of my grandmother, her love of gracious entertaining, her affinity for French décor, her elegance in everything she touched.
From where I sit, I see a small ceramic tea bowl that languished on a shelf in my mother's pine paneled kitchen. I have no knowledge of the origin of the bowl; perhaps it was a gift, perhaps an object in one of her collections. Her house was unsettling in its excess, suffocating, really. There were so many mirrors, yet so little space for reflection.
There is more of my mother here: a hutch that holds her wedding china, a portrait that has been passed down for three generations. And of course, there are my sons – her likeness, in the elder's tendency to debate, as well as the younger's passion for music and art.
It is only now that I realize: two cherubs struggling – or playing – with a lion. Am I the lion? Is my mother – in me – the struggle? Why have I never noticed the lion before this morning?
I sit in the stillness of this changing view, the honoring of those who have come and gone, the melancholy of abandoned vows, the hopefulness of selective recollections that enable us to look ahead. I hear the ticking of the wall clock, the passage of time in my muscle and bone, the voice of a mother who loved Mahler and studying Japanese, biographies and foreign films, Chinese vegetables and cornbread baked in a heavy mold.
I am aware of my hunger. I am pondering what has passed and what may come. I accept that we can never truly know our parents, and perhaps that is the way it should be. I gaze at the plate and the bowl, focused on the power of the vessel – its ability to nourish or to empty, to safeguard secrets or to spill them, to absorb its contents into the skin of its skeleton, to crack beyond repair and cease to perform its job as intended.
I wonder which stories will be sung to the next generation, what images will be held up as light or instead, tethered to scarring. I wonder if my mother knew I loved her.

Big Little Wolf's Daily Plate of Crazy