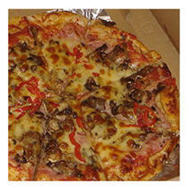 It's been bumpy around Ye Olde Homestead of late. Cycles of teen stress, silence, a talk, followed by improvement. Two or three days later, the cycle repeats. Fortunately, I have plenty of shoe dye for the gray hair. And far more patience than I ever realized.
I also have a usual go-to solution. A great dinner. It seems to ease the words out of my son's mouth. But even that hasn't been helping consistently.
So what do you do when a kid won't talk? When you know there are issues that need to be aired, even if you cannot solve them?
In recent weeks, we've talked more frequently than usual, and more easily. I'm glad (and relieved) that's the case. The process has required gently probing, and far more listening than speaking on my part. Timing – and persistence – have been key.
Silent treatment (troubles brewing)
Yesterday, again, I knew something was off. My son was sullen in the morning, and nine hours later after school, nothing had changed. We headed to a nearby bicycle shop to replace a blown tire, and though I had asked what was up (several times), all I got was shrugging and grumbling.
We replaced the tire (that helped), and then I suggested we have a slice of pizza. We were only a few steps from a neighborhood spot. What kid will refuse that? So we ordered, sat, and as he ate, a few things tumbled out – none of which were anything I had suspected. Moreover, I never saw it coming – something he needed, something he was concerned about, something he though was entirely out of reach.
Exercise. Regular exercise.
The importance of fitness
We all know exercise is important, right? Often we only think about it in terms of losing a few pounds, or fitting into that special "something" for an upcoming occasion. When we think about it, we know we sleep better, manage stress better, and feel better – mentally as well as physically – when we're getting a regular workout, or a swim, or a brisk walk.
But what about our kids? If they eat well and they aren't fat, have we forgotten the importance of fitness for our teens?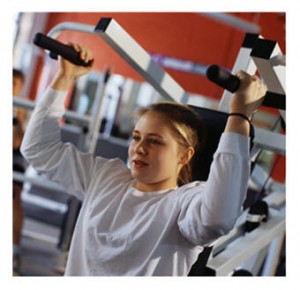 According to one statistic I read, only 38% of America's teenagers get sufficient exercise.* Apparently, my kid is one of them, and I didn't realize it. He plays tennis during spring and summer, bikes when he can, but that's wholly insufficient. A jammed schedule, a tight budget, and my lack of awareness are all at fault.
Do you exercise regularly?
What about your kids?
If you have teens, do they get regular exercise?
Doesn't your mood – or that of your kids – improve with exercise?
Budget conscious ways for kids to exercise
"There's nothing you can do, Mom," my son said. "I know that. There's no budget for gym equipment. There's no space, either. And I need more than just biking in our neighborhood."
"There may be another option," I said.
The eyebrows raised.
"What about the community center at the church just a block from here?" I asked. "Didn't you go there with friends when you were little?"
"Wouldn't it be way too expensive?" he asked.
"I doubt it," I said. "It's a church. Let's stop after pizza and see. It's probably $10/week, maybe $12. If it is, are you willing to cut down on going out every Saturday night so we could manage it?"
"No problem," he said.
Win-win
Fifteen minutes later, we were touring the facility – circuit training, indoor track, basketball court, swimming pool, ping pong – and the friendliest people you could ever imagine, answering all our questions.
I signed him up. It was approximately $12/week. As soon as he's no longer a minor, that price will drop by nearly half. He biked there yesterday, late afternoon. He was home an hour and a half later, his head cleared, feeling better already. Feeling good about himself.
Is this the answer to all the challenges we face?
Of course not. But it's a lesson in financial trade-offs, in priorities, in looking for solutions. And sometimes they're right there – as plain as the nose on your face.

Big Little Wolf's Daily Plate of Crazy