It's a sunny day in New York City. Not too hot. A bit of wind. And eyes on US Open Tennis. The semi-finals (Roger Federer, Novac Djokovic) and later, the Women's Finals (Kim Clijsters, Vera Zvonareva).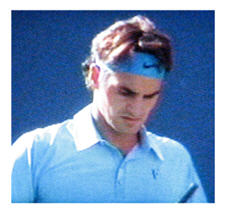 What happened to Roger in the second set?
After a vigorous first (Federer, 7-5), the second seemed to slip away. And the third? Currently on serve, 90 minutes into the match.
So far – some exciting points, some flat play, no wardrobe mishaps, one tripping official in the background, and a bit of grumbling…
More excitement to come?
No matter. This is my kind of unwinding. Tennis greats, and not a cloud in sight.