The heart of the matter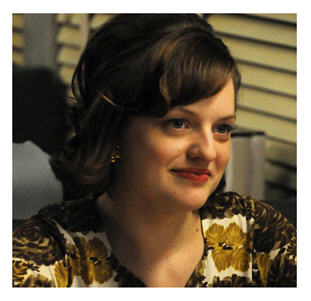 All those sayings… about a woman's place, about a woman's power, about the capacities – and limitations – that are inherently female. Must I really enumerate them? Can't you rattle them off in your head? They've been planted there since you were a child, you know – whether you're 30 or 60.
Go on. Try it. Let's let loose with a few of them, shall we?
Where shall we start?
A woman's place is in the home
Frailty, thy name is woman
The only secret a woman can keep is her age
Women are emotional, men are rational
Care for one more that epitomizes the plight and challenges of Peggy Olson?
Then I will venture this, from British novelist, Joseph Conrad:
Being a woman is a terribly difficult task, since it consists principally in dealing with men.
Mad Men, Peggy, and The Suitcase
Last night's episode of Mad Men, "The Suitcase," shows off 26-year old Peggy in all her glory – juggling that very difficult task of dealing with men: Peggy as earth mother to Duck and Don in their sloppy alcoholism, Peggy as a woman with clear ambitions, Peggy disdained for her unconventional choices, Peggy unafraid to voice her anger and own the consequences.
Other roles to savor as so many of the male characters revolve around Miss Peggy Olson?
Peggy the desirable lover. Peggy the rebellious daughter. Peggy the mother, as she admits that she thinks of her child given up for adoption. Peggy, the vessel for so many emotions of men who depend on her capacities – much like the Samsonite suitcase itself – sleek, strong, with a hard exterior, yet providing safe transport for whatever you place in its care.
And might we add that Peggy cracks? She is not impenetrable. She sobs in the bathroom, in privacy. In contrast, both Don and Duck bawl in front of her. And who is the frailer sex, again? The more needy?
Mad Men recap
Elisabeth Moss as Peggy shines at the core of a swirl of events that take place on this day and night of her 26th birthday. Her well-meaning but insipid boyfriend, Mark, plans a surprise party – and she chooses to remain at the office with a strangely erratic Don, as they work on the Samsonite account.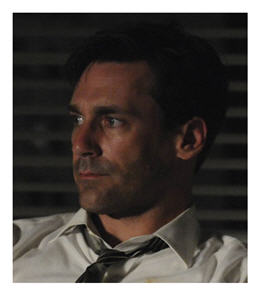 It is the day that Duck, drunk and fired from his job at Grey, tries to ingratiate himself with Peggy – first suggesting a job offer, then pouring out his self-serving need for her. It is the day that Don knows Anna is dying, and unable to face it, becomes meaner and more destructive than usual, drinking until he's ill.
It is the day that Peggy is the whipping boy for Don and Duck lashing out, though as the evening wears on, she manages both men, and reveals more of herself to Don as he confides pieces of his past, and then Anna's death. Don's disclosures are unforced; he refers to Anna as "the one person who knew me," perhaps beginning to sense that Peggy may be equally capable of knowing him more fully.
Why you should be watching Mad Men
There's no wonder that this show garnered a few more Emmys recently. You should be watching Mad Men for its tight and subtle performances, for the remarkable writing, for the sets that take us back 45 years, for the reminders of battles still to be waged against sexism, racism, and anti-semitism.
You should be watching for the texture in these portrayals of women.
If Joan is one of the more elegant examples of the 1960s woman in all her complexity and constraints, Peggy epitomizes the woman not only butting up against the stereotypes, but chipping away at them successfully. Consistently. Without sacrificing her femininity.
If we doubt Peggy's growing potency prior to this episode, we certainly don't after. In "The Suitcase," she is the heart, the moral compass without judging, the woman who will no longer accept anything but her place as Don's equal for respect, if not yet accomplishments. She is the sturdy arms that comfort, the wise head that knows restraint, the increasingly confident woman willing to take on whatever comes – across the office desk, the table in a dismal diner, or on the next seat at the bar.
Kudos again to the creators of  Mad Men – for the depth and power of these incredible Mad Women.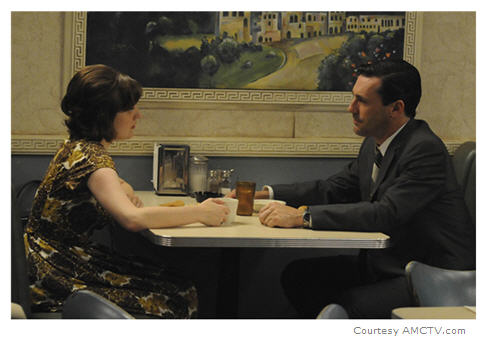 Click images to access originals at AMCTV.  Images Michael Yarish / courtesy AMCTV.com

Read more Mad Men musings and recaps.