Did you attend the Fletcher School of Diplomacy? No? How about the Parental School of Hard Knocks? The Dating School of Hard Knocks?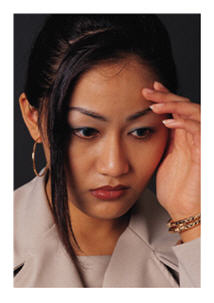 Any of these might serve as some assistance. You know – in those sticky situations when a friend needs to hear the truth. A hard truth. One that will hurt, and there's nothing you can do about it. You're backed into a corner and the only way out is to answer directly, hoping you find a way to do so without hurting your friend's feelings. Or for that matter, burning bridges, or dramatically altering the shape of your relationship.
And to make matters worse, this isn't about wearing the right dress, or acting in a certain manner in a social setting. It's important. An issue of your friend's long-term best interest.
Sound familiar? Run into this from time to time – not only in your personal life, but in your business life?
Sure, I have my own tips on dealing with situations like this one. But effective ways to tell hard truths may sound simple; executing on them doesn't always go according to plan.
Here's the deal.
Characters and plot

There's me. Writer. Marketer. Not altogether clueless when it comes to contemporary art.
There's him. Painter. Good heart. Plenty of talent.
He asks me to help with a coffee table book. There's interest. His work is good. I'm reviewing a few things, tweaking here and there, floating ideas that will fly for his target audience.
So far, so good.
He wants to add sections of his own writing, sprinkled among essays, reviews, and quotes from art aficionados. His paintings are beautiful. But his writing?
Not so much.
The challenge

He asks me again to type up his writing and include it in the document we're compiling. I've been deflecting this issue for weeks. He's somewhere between a client and a friend. I like him, I want to help. So how do I tell him the truth in a way that will not hurt? How do I do it so our relationship remains intact?
If I leave the writing in, it's a less than stellar reflection on him and a distraction to his beautiful artwork. I need to persuade him to eliminate it, or significantly edit it.
He keeps asking where his writing is. I've yet to include it in the pages I've edited for him.
He calls. He asks. I take a deep breath. I need to speak up.
Now.
The gist

"John," I say slowly. (Name changed, obviously.) "We agreed that the images  need to take center stage, right?"
"Right."
"I'm concerned that if we include these writings it will diffuse the power of your paintings."
"But these are words from my heart," he says. "I want them included. And all my friends have read these things and love them."
Okay. That was Strike One. I take another deep breath.
"Do you trust my judgment? You know I love your work, right?"
"Yes," he says. "So?"
"So including these writings takes away from the power of the art itself. We already have essays and interviews included."
What followed was 20 minutes of protestation, and John explaining his rationale as to why his writing – grammatical or not, Ivy-league or not – ouch! his words, not mine – should be included. And if the publisher wants to take it all out (he continues), then the publisher would.
He finishes with: "I'm telling you, my friends love this writing. It's from my heart."
Strike Two. And I really don't want a Strike Three.
Tips for telling a friend the truth
My usual tips for telling a hard truth? To a friend, my children, or even myself?
Couch the bad in the good
Find the kindest words for the hard news
Diplomacy, diplomacy, diplomacy
Watch the eyes, the body language, and listen to the tone of voice
Adjust accordingly.
Repeat as needed.
But none of my "usual" was working.
Dammit, I think. Maybe I shouldn't give a shit about any of this. It's not my problem.
But it's about someone I believe in. And it is my problem. If this proposal gets picked up – even by a local publisher, I get a (big) little byline (tra la) – as a contributing editor.
Then, it's about my reputation. My professional reputation. My livelihood – not just his.
I have to try again. I have to reach him.
Professional reputation, on both sides
"John," I begin again. "I think it's great that your friends say they love what you wrote. They care about you. They don't want to hurt your feelings. So I'm going to say what your friends don't have the balls to tell you. You're an amazing painter and a terrible writer. Those words belong in your journal, not this book."
Silence.
I continue: "Ultimately it's your decision, but I'm advising you to leave them out or edit significantly. I'm telling you because I believe in you, and to protect your long-term best interest."
More silence.
"Just think about it," I say.
"Okay," he replies, sounding dejected.
Netting it out

Here I am, days later, still worried that I hurt his feelings. In fact I'm certain I hurt his feelings.
Was my need to tell the truth justified? Was it about him, his best interest, or me and my best interest?
We'll speak again, and I suspect this isn't resolved.
I wonder if I could have handled the situation better.
Any suggestions?


© D A Wolf

Big Little Wolf's Daily Plate of Crazy