Bigger than life. Flashy. Flawed. Cagey, corrupt, capricious.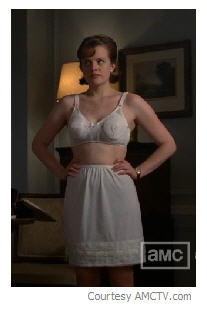 We love our television heroes, and our anti-heroes. Big screen or small screen, we escape into fictional lives, finding points in common, or nothing in common at all.
Mad Men is the perfect example of this phenomenon, as the Emmy award winning drama – again, just last evening – continues to delight us with complex characters and sticky plot lines.
Feminist leanings, or simple ambition?
What's not to love about Peggy Olson brazenly stripping to prove a point to a sexist art director? He insists on insulting her. He's lazy. He's rude. He sprawls on a bed in a hotel room where they're supposed to be brainstorming, and he's flipping through Playboy claiming that it relaxes him and that she is ashamed of her body.
In something bordering on a dare, she strips in front of him and continues to work, calmly seated behind a desk. He takes his clothes off, can't hide his attraction (in humorous moments we adore as she remarks on his perky response to her nakedness), and ultimately, Peggy makes her point. Sexist Stan puts his clothes back on, and presumably they'll get on with their tasks. At the very least, the aforementioned ass will know who he's dealing with.
Don, falling into alcoholism
Don is our hero – classically handsome, the underdog in many ways, but so flawed that we cannot romanticize his behavior any longer. His hard drinking has been on the rise, and in this episode it's clear he's having blackouts. He's now confusing who he's bedding (and wakes to a woman he has no memory of), he's losing days, and he is growing so impaired that in a client meeting he steals an idea in a drunken haze, without realizing he's done so.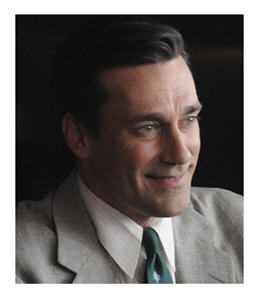 Low – even for Don – who has previously maintained professional integrity, despite adopting a marred personal code of conduct.
Joan, Roger, the past
We have an ironic glimpse into Don and Roger's meeting years before – Don is a very effective salesman in a luxury fur boutique, as Roger is picking out a mink stole for Joan, then his mistress.
Don's youthful ambition and persistence ultimately lands him a job with Sterling Cooper, though Roger has no recollection of actually making the offer. He was drunk.
We also see Roger and Joan during their steamy affair at that time. Christina Hendricks is spectacular in these brief moments of flashback – impossibly beautiful, and wildly sexy. Oh, how can we help but feel sorry for her character chained to that twit of a husband, and what we sense to be a very lackluster marital bed!
Why we love flawed heroes
Is there any doubt that we see ourselves in fictional characters? Especially in our flawed heroes?
We see the glamor in these lives (and imagine that perhaps some day we could taste just a little). And we see their bad behavior – jealousy, deceit, hubris. If they can act and feel this way, are we so terrible when we exhibit these same emotions? Perhaps these aren't bad behaviors so much as they are human ones?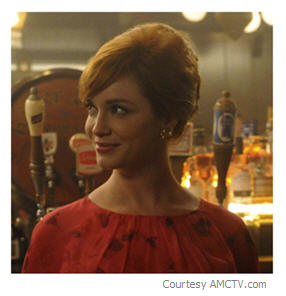 And in their troubles – with husbands and wives, with sexist co-workers, with substance abuse – we know our own temptations and battles. We see what has changed in society in 45 years, and what hasn't.
Don is the ultimate example – his infidelities, his duplicity, yet his love for his children. And there is also the integrity when it comes to the work itself. The quality of the work he produces, until alcoholism begins to encroach on that, as it pervades the other areas of his life.
Why we love Mad Men
It's no surprise that Mad Men picked up a few more Emmys last night – specifically, outstanding drama and writing. Complicated characters on the rise – and fall. Juicy revelations, titillating tidbits, brilliant story lines.
Congrats to a spectacular team for a show that continues to enthrall us in ways that are intriguing, stylish, and substantive.

Images courtesy AMCTV.com.


Read more Mad Men musings and recaps.