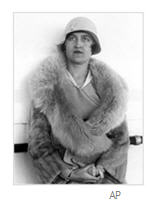 I woke in the middle of the night not feeling well, knowing it was probably nothing but that I'd have to sit it out, and unable to sleep, I decided to do a little reading.
I flipped open my laptop, and found an amazing story on msnbc.com, about Huguette Clark, the reclusive 104-year old heiress who hasn't been seen for decades. She is reportedly in a hospital in New York.
Looking for a true tale to hold your interest? I suggest you read this one.
Care to extrapolate further, beyond the story itself? Oh, you know those thoughts in the blackest hours of night when you find yourself sick and frightened. The imagination plays its tricks, and only in the light of day will the retelling – to yourself – seem less ominous.
Still – I was feeling alone. Perhaps this wasn't the best story for me to latch onto as I crawled back into bed after being up then down, several times. And through it all, circling around the disconcerting realization that if it were anything serious, there was no one to call.
One, in a world of duos
I'm convinced that it's more acceptable to say that you are almost anything other than "lonely." Admitting to feelings of isolation and loneliness – in our culture – simply isn't done. If you are alone, it's assumed that it is your fault, that you're less worthy, that there is something wrong with you.
I get that look – just a glance – at times. And the feeling that goes along with it. I experienced it last weekend at an informal dinner which was, overall, a lovely evening. But I was the woman alone, the divorcee some 9 years later, and the others around the table were couples. Married couples of 20 years and 30 years and more. Our teens were friends and still are, yet our lives couldn't be more different.
Withdrawal, reclusiveness
I have old friends who haven't seen me in a decade or more. They don't know why exactly, but of course – I do. It has nothing to do with them, and everything to do with the circumstances of my life – the juggling, the constraints, the blur of years of raising children and trying to make ends meet. It is as simple as that, and as complex.
Does my apparent withdrawal from their lives mean I'm reclusive, or simply conserving energy with limited resources? To them, am I standoffish? Mysterious? Or no longer on the radar whatsoever?
Settling into smaller worlds?
I'm no heiress stashed away in a 42-room apartment, believe me. Yet we never know the real stories in people's lives. We can piece bits together, especially if they write or document moments with pictures and film. Even that is a fragment of what is real, and reality is itself a reflection of perception, language, intention, and invention.
So what about the older woman on your street who is rarely seen? What about the widows, the widowers, those who have divorced and gone about the business of raising kids and just scraping by, working their two jobs and slowly running down? Those for whom a second partner in life simply never happened? Are they growing old alone and despondent? Shutting themselves off, systematically? Would you ever look beyond the graying hair, the frail limbs, the slowed walk to engage? To have a conversation?
I told you – long night. The mind wanders. And darkness hangs heavily, still, even as I tap out these words quickly, wondering about Huguette Clark, whose story, somehow, touches me.

An update, on Huguette's millions, from Bill Dedman.
Thumbnail photo courtesy msnbc.com article referenced above.

Big Little Wolf's Daily Plate of Crazy