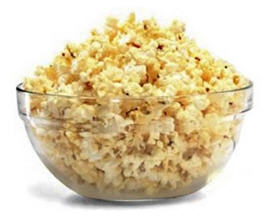 Mix the martinis! Prepare the popcorn!
It's hard to believe – but Bravo TV's "Work of Art" is coming to a close tonight, with three artists vying for pop culture's first "Next Great Artist" title. Despite the controversy over this show, plenty of people are planning on gathering round to see Abdi, Peregrine and Miles strut their stuff in the final competition.
Come on. Admit it. Hasn't this been fun?
And the show accomplished something, though exactly what that may be has yet to be fully defined, or understood.
It's certainly brought a (minute?) measure of mass appeal to the cagey confines of contemporary art. Isn't that a good thing? As for concerns about the way art making has been represented, we're all big boys and girls. We know the Reality TV formula, and we play along: entertainment, with a side of education, and a bucketful of buzz – which is no small thing.
Work of Art Finale – the Countdown, the Showdown

Much of the time, Work of Art has been engaging. Some of the time, infuriating. The rest of the time? Campy consumption. Guilty pleasure. And just in case you need a reminder – pop by Bravo TV's video recap. It's a hoot!
As for the finale, at least the tired trio were allowed to pack their palettes and properly prepare for an exhibition. At last – time enough to think before painting / sculpting / assembling. And who knows – maybe an opportunity to impress us? And aren't we curious to see who wins the prize? And likely to chat about it for weeks after?

Predictions?
Are you Team Abdi, Team Peregrine, or Team Miles? Who will take the title, and who you think deserves it?
Peregrine – with her quirky spirit and fragile forms in drawings, paintings, and sculpture?
Abdi – so good-natured, and perpetually poised for portraiture?
Mischievous, Machiavellian Miles? Will he wow the judges to claim the win?
Future seasons for Work of Art?
I'm gearing up for a festive evening, hoping the finale is fun, and begging Bravo to consider a Season 2 – with tweaked format, naturally.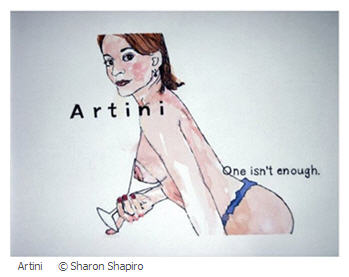 I've enjoyed the additional scoop from the blogs of Bill Powers and Jeanne Greenberg Rohatyn, and informative recaps by Jerry Saltz at New York Magazine. Then there's Emma Allen's wicked wit on HuffPost's ArtInfo.
Delicious.
And I admit – I've delighted in indulging my private passion – pondering, pontificating, and writing about contemporary art.
So as I count down to 10p.m. Eastern, I'll be savoring my ARTnews with a bountiful bowl of popcorn and a sloppy slosh of martini.
Better yet – an Artini. Or maybe two.


Image, courtesy BravoTV.com. "Artini" by Sharon Shapiro, reproduced with permission of the artist.