I find myself stranded again. The car zipped down the street at noon yesterday, with my elder son behind the wheel. There was a brief exchange over a hastily planned camping trip in the mountains with friends. It's a considerable drive, I'm sans vehicle for the weekend, but I said yes.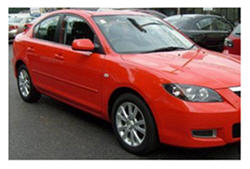 My kid ran errands for me first, filled the tank with gas on his own dime, gave me a kiss goodbye as I was writing, and inhaled a fistful of French bread and ham running out the door as I yelled after him: "I love you, have fun, be safe. CALL me."
Doesn't that about cover it, when it comes to parenting teens? When letting go is a thing of the past for the kids, but we're still processing its effects?
I count my blessings when it comes to both my sons. And I'm impressed with the thoughtfulness of my 18-year old, considering he's only recently back from two months on his own in Europe. He's lived away at college for the past year, and he hasn't had to answer to anyone. The fact that he asks permission to go off for a few days is considerate, and initially, my car wasn't involved in the equation.
I love you
Doesn't it all start there – with I love you? From the time we hold them, we guide them one step at a time, figuring it out as we go. We manage the turmoil and uncertainty, the tedium and the dramas, because the parent-child bond is powerful beyond imagining. Our drive to protect and love is, for most of us, absolute.
Have fun
We want our children to engage with life. To know its satisfactions. To explore. We know they need to develop their curiosity, their problem solving skills, their capacity for joy. Doesn't happiness require practice? Isn't fun something we want for our kids, and if possible, around activities that will teach them about life?
Be safe
Risk is part of life, but we can't help but want our children safe – always. The possibility that something would harm a child is the parent's perpetual terror, at any stage. Sure, we want them to try out body surfing in the ocean, camping in the mountains, or their first road trip. But we want to know they're safe.
Call me
Of course he didn't call me from Europe as he wandered from one country to the next, or stayed up all night partying, or spent five days at a music festival in the middle of nowhere. But take my car? Within the range of my radar? I want to know my son has arrived safely, just as I wanted to know he'd landed at the airport a week ago, returning from his trip overseas.
Worry wanes, but. . .
Worry lessens as kids demonstrate their ability to take on responsibility and handle it. But we wouldn't be parents if we didn't worry. So we manage it, we keep our mouths shut, we monitor the continued progress of their independence. And sometimes, it slips out: I love you, have fun, be safe, CALL me.
How well do you accept your kids' growing independence?
Are they on their own? Do they stay in touch?
When they're home for holidays, do you treat them like adults?
Big Little Wolf's Daily Plate of Crazy