I am looking forward to having food in my fridge and a filled pantry. It's been nine days since I last shopped; I'm down to one Lean Cuisine, one frozen pork chop, four microwaveable soups, and two yogurts long past their expiration dates.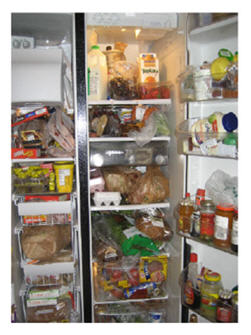 I am not looking forward to visiting the supermarket this morning. It is one of the activities that is most painful to the arm and back injuries from an auto accident, in particular carrying my purchases in from the car, and putting things away.
I am looking forward to the car actually starting – and I'm not accepting any other possibility as, well… possible.
I am looking forward to the return of Bug Guy later today, sometime, who was here for hours yesterday (with lots of good mojo, but not everything he needed).
I am looking forward to Work of Art on television tonight, and wildly excited that Mad Men Season 4 is just around the corner! And tomorrow evening I can enjoy Bethenny Getting Married as well, a show that always makes me laugh.
I am looking forward to eventually finishing this nasty organizing task – there are more than forty files spread across my house, labeled. Where I store them when I'm done? Haven't figured that out yet. Two more mystery boxes to empty, and one last corner in the den. I think I can, I think I can, I know I can. And I will get it done!
I am looking forward to somehow finding a degree of greater healing for my body. And yes, for my mind. For tough times I've had to relive in going through these stacks of papers. Facing the reality that life isn't fair, then moving on as best I can.
I am looking forward to my sons returning from their respective summer adventures – a very different experience for each – and while I've enjoyed this time alone, largely to tackle these difficult tasks, as aggravating as it is to parent teens, I miss my boys.
I am looking forward to the hidden and unexpected laughter that is part and parcel of every life. It's healing. It's energizing. It's there. Always.
I am looking forward to better days, because I insist on believing in better days. Stubbornly. And that belief has gotten me through a good deal, and I count on it to continue doing so.
What are you looking forward to?
Big Little Wolf's Daily Plate of Crazy