Hop in an Audi and take a spin? What's not to love about that?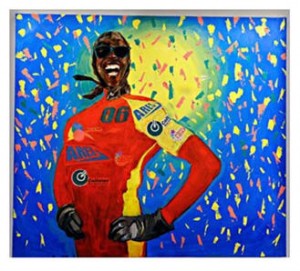 Last evening's episode of Work of Art featured the Audi Challenge, apparently the only sponsored challenge of the series. The participants were to experience their Audis, cruise the city, head to the showroom, and express what they gleaned from their drive through Manhattan. An exciting mission?
Not particularly.
Yet this challenge offered openness – anything to do with a car, with the city of New York, with the artist's mindset while driving. That's certainly a wide berth, and theoretically the results should seem less forced, yielding more "truth" of who these artists are and what they're capable of. Pushing their comfort zone, or exercising smartly within it.
Mark's Gridlock
It's odd that Mark chose this time to step outside his usual (photographic) medium. The results were ho-hum – a layered grid painting with little visual interest. But he tried something different, and gets to stick around. It's increasingly clear that the artists with more versatility in a breadth of mediums have a higher probability of lasting. Still, given guest judge Richard Phillips, whose work frequently dips into gritty imagery of human form, bad call, Mark.
Nicole's Suspension Sculpture
I can't say I loved Nicole's interpretation of an automobile's suspension, but it had a simplicity that I liked, and the idea was original. She also stayed true to herself and constructed something. She thinks three-dimensionally, and came up with a sculpture that catches our attention, albeit briefly.
That's good enough to keep her hanging around, and helpful for Bravo's promotion of the so-called flirt fest between Nicole and Miles.
Ryan and Abdi's portraits
Both Ryan and Abdi returned to portraiture, which Ryan does in nearly every challenge.  "Are you a narcissist?" Simon de Pury jokes. Um, Simon… Do you know any artist who isn't narcissistic, and needs to be in order to survive?
As for the bright portraits and the explanations concerning them? Abdi is more than adept at pleasing us with brilliant color, and Ryan pulled off another "nothing special." With Philips's strident manner of dealing with realistic human form, it's no wonder Ryan got called on the carpet.
Jaime Lynn's wheel of misfortune
Jaime Lynn's consistently underwhelming performance continued. She is an illustrator, and she's clearly out of her element. Her dancing girl wheel concoction? It might work in a children's book, but given her weak showing to date, there was little question she'd be booted off the Bravo Island of Manhattan with this particular effort.
Jackie's photo montage

Jaclyn's departure from her usual self-absorbed strip-tease is what got the judges attention. Rather than saying "look at me" she said "I'm looking at you looking at me.  And by the way, look at yourself while you're at it."
There's nothing original in obliterating faces – obscuring them, erasing them, splatting them with paint. But in using her vantage point from inside the auto showroom looking out, she remained true to her (conflicted?) themes of women's bodies, while veering away enough to create an effective composition and offer a different point of view.
It was clever, and something we haven't seen from her before.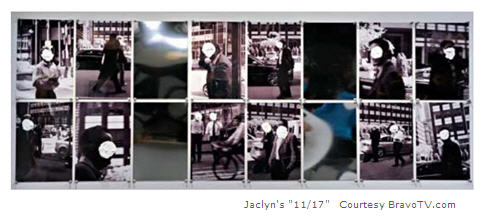 Miles – one note?
This week Miles offered up a somber print and wooden stands. I liked the minimalism of the piece, and the fact that he took advantage of the inherent opportunity in this challenge, expressing nothing to do with cars, and everything to do with cities like New York, and Miles Mendenhall as he portrays himself.
Is he smartly staying within his comfort zone? So far, yes. Is he one of the more versatile and shrewd artists competing? I'm guessing, yes. So while I liked the work, he played it close to the vest.
Richard Phillips
Last evening's judge, Richard Phillips, is an impressive move for this show. I find myself wondering what he would have done with this assignment. When I view a selection of Phillips's paintings, drawings and prints on Artnet, I am also reminded how important it is to consider a body of work. Something we cannot have in a show of this format.  
As for Phillips, perhaps he was the most interesting part of this recent episode. His art hovers in that unsettling space of provocation: the image that seduces and repulses, the image that makes no bones about its dialog on art and pornography, art and media, art and contemporary society. I find his works to be imposing, disturbing, sometimes beautiful, rarely indifferent. I like some, love some, and dislike others.
Those are my judgments and only mine. After all, assessing art is ultimately subjective. We bring who we are, what we've lived, what we've seen, and our propensity for seeing more in each artwork. The more we see, the more we are able to see. Of the artist's truths, and our own.


All contestant images are courtesy Bravo TV.

Big Little Wolf's Daily Plate of Crazy