There's good news and bad news. Oh, I won't even begin to discuss the state of the BP oil spill, our lagging economy, not to mention my pitiful personal life. But there's still a cornucopia of good news – offset of course, by weird news (at the very least), and yes, bad news. But may I start out with brilliant television? Incredible entertainment? And more to look forward to?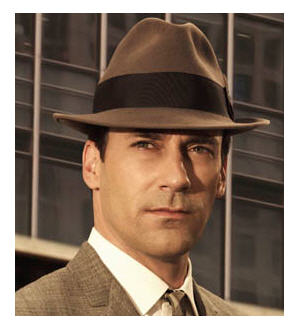 Last evening's best of Mad Men Marathon, Season 1 – offered me delightful viewing until the wee hours, especially since sleep was impossible. There was gorgeous Jon Hamm as Don Draper, with all his contradictory complexity, right from the series opener.
And we can look forward to more Mad Men marathons – seasons 2 and 3 – and soon I'll be back to my weekly reviews of this exceptional show.
Now – as for something more in keeping with the weirder side of life (no offense intended): strange sightings of ear-wearing, tail-flaring creatures, which actually turned out to be human adults.
Good news and bad news – furry frenzy, fuzzy vision?
The good news: I wasn't losing my mind. I did a double take when I saw him – strolling down the street in what appeared to be a heavy blue suit of fur, not to mention feline ears. It was 87 degrees. Might there have been a NASA cooling system under the suit?
The bad news? There were more of them.
Actually, the "Furries" as they are called, seemed friendly enough strolling about with their striped and spotted tails dragging along the sidewalks, and I even got to chat with one. Additional research, however, left me puzzled. It was unclear what to make of this propensity for very specific animal costumes, related computer play, and apparently role play as well.
Simply a unique hobby with a little charitable giving to PETA thrown in? Just one more lifestyle choice? That's what furry fandom talks about publicly. The more radical variations suggest unusual bedroom behaviors (occasionally the litter box?) extending beyond the "tame tails" I've heard from French friends. But I'm a believer in "to each his own." And who doesn't love a man with a furry chest? Though this takes it a bit fur-ther than my personal preferences.
Is that bad news? Not necessarily. Though wouldn't it be fun to in-fur-trate?
Real good news and bad news

The good news: It's currently 74 degrees outside. I'm sitting on a tiny back deck with my laptop. More good news? No berry-bellied birds have relieved themselves on me as yet. The bad news: It's 82 inside my house and still early morning. I barely slept, and temperatures are climbing quickly to the mid 90s.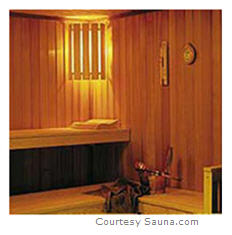 The good news: It's a bit like having a personal Swedish sauna. And not just a sauna room – every room is a sauna room. It's well known that the benefits of a sauna are many, including relaxation and detoxing your major organs. Besides, who needs the healthy glow of a simmering sex life when heat can gently flush the cheek? But there is bad news: I won't make it much longer in this sweat box, though it puts those hot flashes into perspective!
The good news: I truly am looking forward to Season 4 of Mad Men. And it begins this month – on July 25th – sooner than I realized. If you haven't watched this masterful Emmy Award-winning series, it's a must! Superb writing, meticulously paced scenes, time travel back to 1960s style, a societal mirror that is captivating as much as it is disturbing, and complex characters who never fail to intrigue.
The bad news: That's almost 3 more weeks to wait!
Monday complaints for Tuesday morning?
The good news: We have a flexible Complaint Department here at Daily Plate of (Hot Hot Hot) Crazy. We're going for Tuesday complaints today; we'll chalk it up to the holiday week in the U.S., okay?
The bad news: I've got some complaining to do.
My house is a steam bath! And my arms are too weak to open the windows.
The UnBudget has no house maintenance in it. Um, as in AC repair.
I still need a heating pad for the assorted pulls and aggravations of the recent traveling.
Heating pad inside an 82 degree household? (Not what I had in mind, when musing about being a hottie.)
But there's always a silver lining, remember? All this is more opportunity for creative problem-solving. What's not to love about that? And – the Complaint Department is OPEN!
It's your turn. Now don't disappoint me. You might, um… get me hot under the (fur) collar. If I had one.


© D A Wolf

Big Little Wolf's Daily Plate of Crazy