I couldn't resist this tidbit – Ryanair finally goes for its Standing Room Only air travel, according to The Telegraph (UK). Seats back in the upright position? Try "backs upright in the standing position!"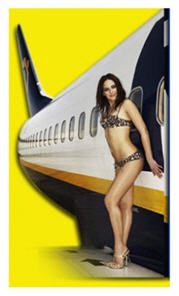 This decision has been bandied about for awhile; I caught wind of it last year (and was amused), thinking it was unlikely to… well, fly. But apparently that's not the case. Ryanair plans to offer "vertical seats" in a standing room only capacity.
Some 250 planes will be outfitted with these special accommodations, and the price discussed is a mere £5 per ticket. You got it! That's all. Just don't forget – bring enough cash to pay for the toilet. That's right. You'll be charged for the loo.
Is this smart business, or just crazy?
Perfectly acceptable budget travel?
Would you fly SRO?
Who knows. Maybe they'll throw in a free calendar.
But I wouldn't count on it.

Big Little Wolf's Daily Plate of Crazy