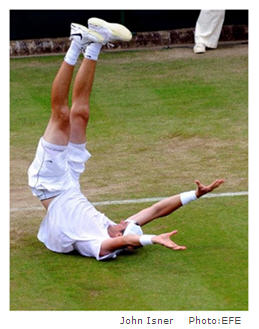 The Complaint Department is Open!
But today, I'm also in search of silver linings, if you happen to have any in sight. Mine? Wimbledon Week 2 is here! And that helps everything, even though I missed last week's incredible 11-hour match with its extraordinary 70-68 fifth set!
So here is my contribution to Monday morning moaning and groaning. And then let 'er rip! This is a free zone. Everything is fair game – no complaint too small!
So what's driving you crazy??
Whining and dining
What have I got to bitch about? (Oh, there's always something, isn't there?)
I haven't seen any Wimbledon! Last week was so busy and all-about-kid that I missed the record-breaking John Isner win, and the Queen's first visit in 33 years. And everything else!
I need Andy Roddick, with or without shirt! How could I have missed my Andy Roddick fix?? And Clijsters or Henin? Who do I root for? (Pretty lame as complaints go, I know.)
I am seriously sleep deprived (Okay. Legitimate complaint.) Nights and nights and nights. Brain function has been reduced to irritable blips. Patience is nil.
There's no food in my fridge! (Does Five Guys deliver, avec peanuts?)
Every muscle in my body hurts after a weekend trip of planes, trains, and bumpy shuttle buses. Serious stair climbing (college dorms, university tour) offered a special bonus for my beleaguered back and limbs. I am in bed. Movement is unlikely for awhile. . .
Now my silver lining
Silver linings abound (also known as perspective).
The weekend was tiring but went smoothly. Flights were delayed but the universe gave back in entertaining fellow travelers. I'm home! And honestly? In a great mood (and really no complaints).
I will have THIS week to enjoy Wimbledon 2010! (I'm immobile anyway.) May all wardrobe malfunctions please occur in the next days. . . and some fantastic play!
I have half a tuna sub in the fridge and it isn't moldy. Hell – I can live on that for two days! And I have coffee, Motrin, coffee. It sounds like a plan to me.
My kids are doing great. And when that's the case, I'm happy. What's not to love about that?
Your turn – what's bugging you? And is there a possible silver lining?

Big Little Wolf's Daily Plate of Crazy