You snooze, you lose?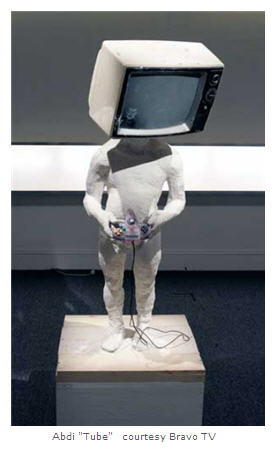 When artist Miles Mendenhall is sleep-deprived, apparently he has a tough time of it. In this week's episode of Bravo TV's Work of Art, he sleeps through a critical part of the challenge – time during which the contestants are to salvage material from an appliance graveyard, with which to make sculptural works.
Fortunately, the 23-year old wakes in time to gather a few materials, and assemble a fascinating installation that is serene, textural, raw, rude, clever and elegant.
Eventually, he transforms installation (a platform bed and other objects) into performance, curling up on the bed during the gallery viewing.
The Task at Hand (Conceptual Art)
Creating a three-dimensional sculpture that incorporates "found objects" (electronics junk) is the assignment. Conceptual art. For those who are not familiar with what this is – basically – it's idea art, typically dependent upon text, explanation, knowledge, or a concept.
Conceptual art needn't come in the form of sculpture or installation, but it's challenging in 3-D – especially for those who work in more traditional mediums like painting or photography, unused to hacking, cracking, smashing, trashing, and re-purposing materials to support a thesis or statement.
Unfortunately, the visual (and sensory) often get short shrift in conceptual art. That's part of why it's so off-putting to so many. The most effective art in this "genre?" A result providing a  fully satisfying combination of sight, sound, movement, use of space and emotion. At the very least, attention to the artwork should equal that paid to the idea. Otherwise? Conceptual FAIL.  
Bedroom versus Living room
Why did Miles's installation sparkle, and Jaime's bomb? Why was Trong exiting stage left?
Jaime is a painter, not a sculptor, and not a conceptual artist. Her living room arrangement possesses no nuance, no whimsy, no clout – though she makes a valiant attempt to recreate a narrative of 70s housewifery, while tying objects together by painting on them. Compare that to Miles's deft handling of a simple concept – sleep – and there is no comparison.
A lesson in the power of opposites – sleep is hard to come by, yet so lush when we do. Then there's the play on words inherent in the work's title (Bravo's idea or the artist's?). "Worst Place" is a great riff on coming in last (though Miles places first), and apparently, the contestant quarters are not conducive to the artist getting sleep. Even less conducive? An installation of a bed in an open gallery. Yet that is exactly where Miles stretches out and takes a nap, in public.
Why "Worst Place" took First Place
More specifics on the brash and effective elements of Miles's boudoir?
His interpretation offers originality, visual tension, and humor. I love the rawness of the pair of sculpted butt holes; they resemble 70s cushions inviting you to, well… sit on them. They look soft; we know they're hard. Staged on either side of the bed they form a balanced composition, as if to frame the bed – itself a frame or platform, crafted by the artist and ultimately his platform. Not only for his talent, but for himself, quite literally.
Further pleasure points go for juxtaposed geometries – circular and rectangular forms playing off one another, which is visually satisfying. More delicious tensions appear in the hardness of the bed and its soft, stuffed comforter. At the head of the bed dangles (or stands?) yet another rectangular form with a blurred red circle, suggesting a window and morning sun. For modern art aficionados, Miles seemed to channel an Adolph Gottlieb Burst, or do we chalk this up to serendipity?
As if we need more, Miles creates an intricate screen-print of circuitry on the bed cover (what is normally hidden is brought to the surface), tying back the electronic components from the appliance salvage expedition. But the pièce de résistance is the artist's audacity (or simple fatigue?) as he curls up on the bed to pseudo-snooze during the gallery showing itself.
Arrogance? Indifference? It hardly matters. The effect was remarkable – human, tender, and winning work – hands down.  
Where Trong went wrong
Don't play it safe. Be courageous. Don't get electrocuted!
Those were among the instructions of guest judge and mixed media sculptor Jon Kessler.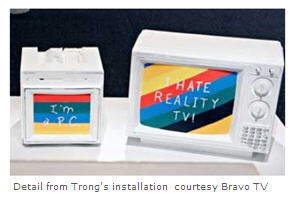 Trong, a conceptual artist, set up televisions watching each other in a human setting, using a timeworn trick of painting phrases and lettering across their screens. It was utterly unoriginal, from a curator-artist who lives and breathes "idea art." I don't wonder that the judges expected more, though I think Judith's cable concoction left much to be desired and was a close contender for getting the boot.
As for Abdi, he created an accomplished and conceptually accessible sculpture: Boy-man, dependence on gadgetry and gaming; we get it. We respond to it.
Why is it not the winning work? It lacks the flagrant originality, sophistication and subtlety of Miles's installation. As for Nicole, who also garners praise, her idea is well conceived and executed (discarded objects, the archaeology of waste embedded in the belly of a 1970s television). I suspect that it was more appealing in person than on the television screen (ironic), yet still, it lacks the daring and cagey charm of the wunderkind's artwork.
Incidentally, according to Work of Art judge Bill Powers' blog, Miles hid his unused electronics under the bed. How much more like a kid cleaning up can you get?
What's next? Hard to say. But "cleaning up" just might be what Miles Mendenhall has in mind, when it comes to this competition.

© D A Wolf

Big Little Wolf's Daily Plate of Crazy