It's been a lovely afternoon of wandering the flea market, enjoying the crowd and the diversity of antiques and vintage curiosities. You pick up a small silver fork and wonder why its tongs curve outward so delicately. You turn it over, note a hallmark of some sort, feel its weight in your hand, then glance at the price tag to confirm your suspicion of the object's worth.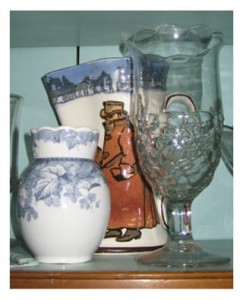 Then you reach for the porcelain vase, with its soft blue design of vines and blossoms. Next, an appealing piece of heavy glass, and again, you check the price.
You move on to the furniture dealer's stall, running your hand across the worn surface of a drop leaf dining table. You recognize its tapered legs and pad feet, and your fingers feel along its underside for the telltale signs of legitimacy to its claim of age. Again, the price informs you – of potential value – or something to walk away from.
Each time you consult a price, you assess. But what exactly are you assessing?
What is the connection in our minds between price and value?
Does a low price convince us that we've found a bargain?
Or do we shake our heads and realize that the object must be a fake?
Does a low price or no price mean little or no worth?
Is a high price reassurance that we are in possession of "value?"
Pricing in business
When we set a price for goods or services in business, we are – of course – seeking to profit, seeking to sustain a viable enterprise that will continue to thrive. We price according to a variety of market and competitive factors, not to mention the costs involved in producing, testing, insuring, stocking, distributing, marketing, servicing and continuously improving what we offer for sale.
We also price according to psychological factors. A higher price implies value; it may even ensure a certain exclusivity (thus bolstering demand) – as with designer or luxury goods and services. We assume quality, as substantiated by an elevated price.   
Valuing ourselves: price tags on relationships

In personal relationships price and value are always at play. Some of us give ourselves away – our love, our support, our knowledge and assistance. We do so, thinking it is the right thing to do – the only thing to do – in family units, in communities. Those who are lucky receive in kind. Unfortunately, for many of us, in giving so much away the perceived value of our services (love, affection, assistance) begins to fade. All too often, so does our self-esteem.
In a traditional model of marriage, some choose to tacitly (or expressly) require outward signs of value. The expensive vacation. The upgraded diamond rather than the engagement ring from a decade earlier. The credit card bills that will be paid, no questions asked. The material, in exchange for the domestic, the emotional, the hard work of running a household and raising children.
Whether you agree with this or not (whether you judge it or not), it remains a legitimate model of exchange – and value.
Exchange of services
If I give away my writing in a professional context, then it is devalued. I have done this in the past, as a favor, or for individuals I wished to support, who had no funds to pay me. Some appreciated what I did, and I was delighted. Others sought to take more and more, gratis, leaving me feeling less and less in control and certainly, as though what I provided was neither valued nor respected. And clearly, I cannot pay my mortgage with gratitude – or by giving away my professional services.
To some extent, each of us gives ourselves away – here – in this "virtual salon," as described on Motherese by Bruce of Privilege of Parenting. We share by choice, exchanging in something like equal measure. We are a sort of collective pool of learning and listening. This is not the way our society's machinery works, yet it seems to work for a selected group of us.
Our currency of exchange is not dollars and cents, but words, ideas, laughter, and recognition. Kindness, as we stand by each other. Compassion, as we stand each other up in a world that would knock us down, divide us, isolate us, diminish our value in the private places of self where we have no precedence for pricing. Yet we know our need for a sense of worth.
The value of a price
I believe in price tags, just as I believe in the adage "you get what you pay for." We price our output and our efforts, our knowledge and skills, and the work we do daily, whatever it may be. It is the payment method that varies – for parenting, partnering, or producing in other ways.
Even if the price does not equate to deposits into a bank account, it reflects value. It will mirror that we are respected and appreciated, or not. It will be expressed in behavior, in the provisions of a comfortable life, in sustenance for the soul.
Just as I might examine an antique closely, knowing precisely what to look for to assure that the pricing is a fair indication of value, so too do I understand that value is personal, changeable, and negotiable. Although I hold to the validity of "you get what you pay for," ultimately, I insist that we do best when we trust our gut – with a bit of due diligence all the same. At times, we are given gifts of enormous value, and with no price tag. Except perhaps to pay it forward.

Big Little Wolf's Daily Plate of Crazy